pursuits
Mercedes Aims for the Super-Rich With a 'Super' S-Class
By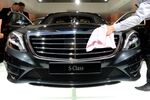 Mercedes-Benz is readying its new range-topping sedan, the 2014 S-Class, for delivery this September, but the company is also working on an even more luxurious model that will compete with Rolls-Royce and Bentley, as opposed to "just" BMW and Audi.
The "super S-Class," as the car is reported to be called internally, will feature a longer wheelbase and even more sybaritic interior appointments. Given that the upcoming garden-variety S-Class already has simulated hot-stone massages in the seats, self-steering cruise control, and scented-air ventilation (use either one of Benz's premade scents or pour in your own cologne for a Drakkar-scented ride), those appointments will likely fit for a pasha. Daimler (Mercedes-Benz's parent company) Chief Executive Dieter Zetsche has said the new car will cost around $250,000—a considerable hike above a standard S-Class, which runs somewhere around $120,000.
But going after the ultraluxury market seems like a fool's errand, right? I mean, the volume just isn't there. Last year, Rolls-Royce sold 3,575 cars worldwide. Bentley sold 8,510. The sales of just the S-Class last year were 65,128, What's another few thousand cars to Benz?
A lot of profit, actually. "The distance from your garden-variety S-Class to a Super S-Class is all margin," says Kevin Tynan, senior automotive analyst at Bloomberg Industries. "The added content goes all to the bottom line." According to a study from Commerzbank, the estimated profit margin on a regular S-Class is 25 percent, Tynan says. "While the additional margin may not be all that much more," he wrote in an e-mail, "the profit contribution of 25 percent on $250K vs. $150K is still significant."
This isn't the first time Mercedes has chased superhigh rollers—and the last attempt didn't end well. In 2002 the company resurrected the long-dormant Maybach brand with a superlong limousine based on the then-current S-Class. The company had expected to sell a couple thousand vehicles each year but never broke out of the low hundreds. In 2013, the brand was shuttered—an ignominious fate made all the more so since Maybach's competitors Bentley and Rolls-Royce have gone on to record-breaking sales.
Will the new Super S-Class suffer the same outcome? The new über-Benz does have a few things going for it that the Maybach didn't. For starters, it will cost less: $250,000 is a far cry from the $350,000-470,000 that Maybachs used to cost. "$250,000 is far more reasonable than what Maybachs were costing," says Tynan. "For an owner of an S-Class, it's not as big of a jump."
Another asset the Super S-Class will have is discretion. One of the Maybach's problems was that it was a parade float of a car. Its length, its optional two-tone paint job, the curtains on the windows—they all just screamed for attention. And while that might be fun for a professional athlete or dictator, most of the plutocracy likes playing their affluence a bit closer to their (bespoke, naturally) vest when among the great unwashed.
Not that Rich Uncle Pennybags is going to drive a Chameleon XLE, but given the preponderance of S-Classes in most cities, having the "Super" one should let you blend in with the merely affluent.
Before it's here, it's on the Bloomberg Terminal.
LEARN MORE