Maryland's Smith School Freezes MBA Tuition for 2013-14
Louis Lavelle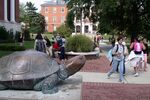 The University of Maryland's Smith School of Business will not be increasing tuition for MBA students this year, the third consecutive year without a fee hike. But the tuition hike holiday may not last much longer.
Annual tuition for about 850 full- and part-time MBA students for the 2013-14 academic year will remain at $38,475 for in-state students and $45,765 for out-of-state students.
Maryland isn't the only MBA program holding the line on tuition increases. On July 17, the University of California regents approved a tuition plan that freezes tuition for 2013-14 for 29 professional degree programs, including MBA programs such as UC Berkeley's Haas School of Business. A week later, UCLA's Anderson School of Management, which recently won approval to become a self-supporting program, said that it would not seek a tuition hike either.
But Maryland is bucking a trend. According to the Association to Advance Collegiate Schools of Business, North American full-time MBA programs have raised tuition and fees by an average of 33 percent from 2007 through 2012. This year alone, a number of top schools, including Stanford Graduate School of Business and the University of Michigan's Ross School of Business, have approved substantial increases.
A number of things have made it possible for Maryland to hold the line on tuition. Interim Dean Michael Ball says the school's MS programs—in information systems, supply chain management, accounting, finance, and marketing analytics—have proven popular with students, generating significant tuition revenue. Forgoing high-paid faculty superstars and making other prudent hiring decisions, as well as the state's prohibition against merit raises for the past three years, have also helped. "There's no silver bullet," he says.
Ball says a "substantial" merit raise scheduled for early next year may bring an end to the tuition freeze. "We're going to try to keep tuition level next year, but we may not be able to," he says. "We'll see."
Join the discussion on the Bloomberg Businessweek Business School Forum, visit us on Facebook, and follow @BWbschools on Twitter.