Henry Bloch: From H&R Block Founder to Entrepreneurial Evangelist
Elizabeth Rowe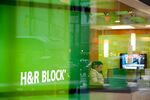 Henry Bloch, founder of tax preparation giant H&R Block and the namesake of the Bloch School of Management at the University of Missouri, Kansas City, donated $32 million to the school for a new building that will open to students this fall. Bloch sat down to chat with Bloomberg Businessweek's Elizabeth Rowe about his alma mater and teaching young entrepreneurs. What follows is an edited version of the conversation.
You recently donated $32 million to your alma mater to build a new business school building. What do you hope it will bring to the school?
There were a couple reasons we built the building. Our enrollment has been growing rapidly in the business school here, and we did not have room to increase the number of students. We had to do something—we couldn't just take them in and not have any room for them. The other reason is the field we're really involved in is entrepreneurism, and we wanted facilities that had the latest equipment to teach the subject, which is what we have now. We needed [the building] so badly, and for the university to build a building—it's not that easy. We'd have to raise the money, and it might take years to get this accomplished. We just didn't want to wait that long. And at my age [91], I wanted to see it actually happen.
What sets the University of Missouri, Kansas City, apart from other business programs that teach entrepreneurship?
It has the practical approach of actually having students engaged in entrepreneurship, engaged in businesses, having contests to see who is doing the best job, and rewarding them. There's a focus on entrepreneurship. Companies in Kansas City seem to be very interested in entrepreneurs. They want their employees to be more innovative and more involved in developing something new for the company that they work for. So entrepreneurship is not just for students starting businesses, but also for existing employees.
You started an enormously successful company—what are your thoughts on how to train entrepreneurs? How are those thoughts informed by your own experiences in business?
In building our business, we worked hard, and we tried to please our customers. We also have tried to have the employees help out with anything they could do. We've tried to incorporate that into the idea of teaching entrepreneurship. You've got to work hard and avoid shortcuts and think of the customer first. I think that applies no matter what business you're in.
Join the discussion on the Bloomberg Businessweek Business School Forum, visit us on Facebook, and follow @BWbschools on Twitter.
Before it's here, it's on the Bloomberg Terminal.
LEARN MORE