H&M Opens U.S. Web Store: What Took So Long?
by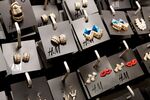 Hennes & Mauritz —H&M, to you—finally started taking online orders in the U.S. this morning on its HM.com website, more than 2½ years after first promising to open an American Web store and almost two years behind a digital-shopping option from rival Zara. Fast Retailing's Uniqlo, the world's No. 4 retailer, also beat sluggish H&M to the punch by opening an e-commerce platform in U.S. ahead of the 2012 holidays.
H&M first put U.S. customers on notice of its exciting online expansion in a January 2011 message on Twitter: "Good morning is an understatement! H&M has decided to have online shopping in the U.S. at the turn of the year 2011/2012! Stay tuned for more." Those who did stay tuned were treated to at least two delay announcements over the following months, even as the retailer managed to run online operations in the U.K., Germany, and many other countries. "We're taking countries on every year, one by one," Daniel Kulle, the company's U.S. president, told Women's Wear Daily this week.
The company is offering some free shipping throughout August for the debut before charging a flat $5.95 fee. The Web store gives H&M access to a $54 billion U.S. market in apparel and accessories bought online, according to eMarketer, and sales are growing by almost 20 percent a year. Apparel is second only to consumer electronics when it comes to sheer scale of Web commerce, and clothes now command twice as many Internet dollars as books, music, and videos.
The U.S. is also particularly lucrative for H&M, second only to Germany in a ranking of countries by revenue. An online storefront lets H&M tap into huge swathes of America where the apparel giant has yet to build one of its almost 300 shrines to fast fashion. Until today, a kid in Pierre, S.D., hankering for some skinny Swedish jeans, had the choice of driving to Denver (8 hours) or Minneapolis (7 hours). Consumers in Montana, Iowa, New Mexico, and many of the Gulf states were in a similar bind. Even Oregon is mostly H&M-free, although Portland has three of them. The Web presence also gives H&M another shot at consumers who like its clothes and prices but consider a trip to its stores a special kind of Swedish hell—the kind with legions of sharp-elbowed teens and piles of castoff polyester, and without any of those Ikea meatballs.
So what took so long? It certainly wasn't a tech issue: H&M already has Web stores in more than 20 of its 49 markets around the world. But Web commerce is a supply-chain nightmare, particularly in a big country like the U.S. While inventory management at a brick-and-mortar store isn't easy, at least it's tangible—customers see only what's there. Now they will be able to see what's not in their local store, and H&M customer service better be on its toes if any of its Web products aren't available.
There are other challenges more or less specific to running an online-apparel operation in the U.S. American shoppers are fickle and prone to returns. The sheer size of the country and its various climates presents a constant challenge of what to stock online. Zara, a unit of Inditex, is better equipped to handle these challenges because it is vertically integrated and makes all its own clothes. H&M, by contrast, relies on third-party factories. "It's about having the proper infrastructure," said Megan Donadio, a retail strategist with Kurt Salmon. "You need to really be able to manage your inventory on a very holistic level."
In the end, the Swedish giant couldn't afford to ignore U.S. Web shoppers any longer as it looked to broaden its sales base. Four of five H&M dollars still come from European shoppers caught in a crummy economy. No wonder its profit in the recent quarter fell 11 percent.
Before it's here, it's on the Bloomberg Terminal.
LEARN MORE