business
Welcome to the New Airbus. Politicians, Keep Out
By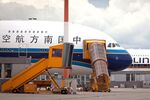 For all the money and effort expended on corporate name changes, they rarely alter companies' fortunes. (BlackBerry, the former Research in Motion, is a case in point.) Airbus—the name adopted on July 31 by the former European Aeronautics Defence & Space Co.—could be an exception.
In taking the name of its biggest and most successful division, EADS is acknowledging that its effort to build a robust defense and space business has failed.
A key reason for that failure was interference by the European governments that hold stakes in the company. Last year, for example, a planned tie-up of EADS with Britain's BAE Systems was scuttled as politicians squabbled over divvying up the merged company's operations.
The Airbus name underscores Chief Executive Officer Tom Enders's determination to curtail such meddling. "It tells the politicians, 'This is a commercial firm,'" says Richard Aboulafia, an aerospace consultant with Fairfax (Va.)-based Teal Group. "It could change how the company sees itself, and how customers see it."
Airbus, operating in the fiercely competitive commercial jet industry, knows only too well the perils of letting national interests trump business considerations. A wiring snafu on its A380 mega jet, which cost the company more than $6 billion, stemmed from the fact that Airbus's French and German factories had balked at adopting the same kind of design software. The debacle ultimately led to tighter integration of the Airbus division while allowing management to take steps—such as opening assembly lines in China and in the United States—that previously would have sent European politicians into a tizzy.
Airbus has benefited from some government involvement. World Trade Organization judges ruled in 2010 that Airbus had received billions in subsidies to help launch new models, including the A380. WTO judges also found that Boeing received $5.3 billion in illegal government aid. Both sides are appealing; in the meantime, the European Union says aid to Airbus has been discontinued.
Adopting the Airbus name is part of a broader restructuring by Enders, who is organizing the company into three divisions: commercial jets, helicopters, and a combined space and defense business. The stock rose as much as 3.3 percent on the news, to its highest level since EADS was formed in 2000 through the merger of German, French, and Spanish companies.
The plan calls for still-unspecified cost savings in the defense and space operations. By the end of this year, "We'll know what concrete changes they'll be making, whether they're really going to shake things up," says Nick Cunningham, an analyst at Agency Partners in London.
With its new name, though, Airbus has already signaled that it doesn't want politicians calling the shots. "Interfering with a political creation like EADS came naturally," Aboulafia says. "This could make the company easier to manage."
Before it's here, it's on the Bloomberg Terminal.
LEARN MORE