The Gay Boycott Against Russian Vodka: Stoli's CEO Speaks Out
by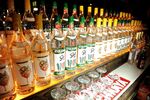 Gay bars from West Hollywood to London are pulling Russian vodka from their shelves in protest of the country's anti-gay laws. Columnist Dan Savage launched the effort. He published a story last Wednesday titled "Why I'm Boycotting Russian Vodka," and rallied supporters on Twitter using the hashtag #DumpStoli, a reference to the popular vodka brand Stolichnaya.
But here's a fact not known by many boycotters: Two companies produce that vodka. One is state-owned company FKP Soyuzplodoimport, which makes and sells Stoli in Russia and a handful of other markets. The other is Luxembourg-based SPI Group, a private company that makes and sells Stoli in more than 100 countries, including the U.S., U.K., and Canada. SPI Group claims it's being wrongly targeted.
SPI Chief Executive Officer Val Mendeleev tells Bloomberg Businessweek that his company supports LGBT causes and the Stoli boycott is "totally unfair." He has not spoken to Savage. Since the controversy, Stoli's home page and Facebook page have gone full-on rainbow. Stoli is the 12th-best-selling vodka brand in the U.S. and 14th in the world, according to data from researcher Euromonitor International.
The gay community "is one of the active consumers of Stoli," Mendeleev says. To reach this group, Stoli, under SPI, produced a documentary series called "Be Real: Stories From Queer America" in 2006, for instance. And in search of LGBT ambassadors for the brand, Stoli has been holding a series of events in U.S. cities since July 9 called the Most Original Stoli Guy.
SPI, founded in 1997, has been at odds with the Russian government for years over rights to the Stolichnaya trademark. With such a contentious relationship, the company does not want to be "unfairly associated with the Russian government" generally, or "the shameful laws of the Russian government and the resulting violence" related to its stance on gays, Mendeleev says.
In a statement issued last week, the CEO explained that some ingredients used to make Stoli do come from Russia, but "the Russian government has no ownership interest or control over the Stoli brand that is privately owned by SPI Group." Mendeleev went on: "We fully support and endorse your objectives to fight against prejudice in Russia. In the past decade, SPI has been actively advocating in favor of freedom, tolerance and openness in society, standing very passionately on the side of the LGBT community and will continue to support any effective initiative in that direction."
A representative for Savage (whose other online exploits have included SpreadingSantorum.com) did not respond to a request for an interview. In response to Mendeleev's statement, Savage demanded in a follow-up story that SPI take a more active role in promoting gay rights in Russia. His call to dump Stoli, which he called "the most iconic brand of Russian vodka," seems more symbolic than reactive to any particular action by the company. Yet as West Hollywood City Councilman John Duran acknowledged to WeHo News, "They say we're going after the wrong people, but the only way to get the attention of the oligarchs to whom Putin listens is economically."
According to trade data company Panjiva, vodka isn't even America's main import from Russia. Such top Russian imports as fuel, iron, and fertilizers are harder—or at least less sexy—to mobilize a boycott around.
Before it's here, it's on the Bloomberg Terminal.
LEARN MORE