Steady Small Business Hiring in July: ADP
By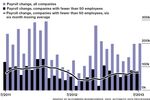 Small businesses added 82,000 jobs in July, according to data from the ADP National Employment report released today. All private payrolls increased by 200,000 this month, according to the report. The growth beat economists' forecasts and coincided with a U.S. Commerce Department report showing the U.S. economy grew faster than projected in the second quarter.
"Job growth remains remarkably stable. Businesses are adding to payrolls in most industries and across all company sizes," Mark Zandi, chief economist of Moody's Analytics, said in a news release with the ADP report.
So far this year, businesses with fewer than 50 employees have added more than half a million jobs and accounted for at least 40 percent of private job growth each month, according to ADP's data. The official employment data from the U.S. Bureau of Labor Statistics will be released Friday.