Sex-to-Drugs Parties Vie for Say in Australian Elections
Jason Scott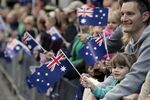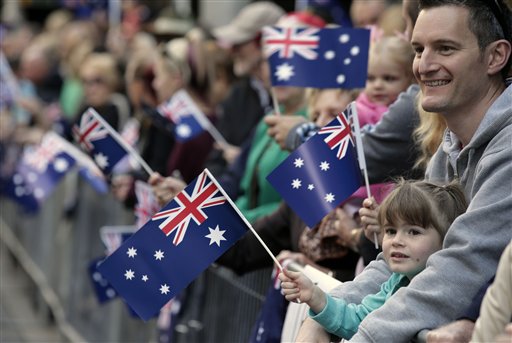 A mining magnate, WikiLeaks founder Julian Assange, and a former sex worker are among those whose candidates for Australia's Senate stand to determine whether Kevin Rudd or Tony Abbott can enact their election pledges.
The number of parties registered to contest an upper house election due by Nov. 30 has more than doubled to 54 since 2010, with the electoral commission ordering magnifying glasses for voters to read ballot papers more than 1 meter (3 feet, 3 inches) long. A preferential voting system means results may be splintered, raising the prospect small, single interest parties will have final say over what laws pass in the world's 12th-largest economy.
"Given the sheer amount of candidates and parties vying for the Senate, there could be more winners from the non-major parties," said political scientist Dean Jaensch of Flinders University in Adelaide. "That makes it a fair prediction that the Senate will be hung after the election, and who holds that balance of power is important."
Whoever ends up as prime minister, by securing the most seats in the lower house, will find their negotiating skills tested in the Senate. Rudd was ousted by his own party three years ago in part for his autocratic style. Successor Julia Gillard pipped Abbott to win the support of independents and form a minority government after the narrowest election result in seven decades in 2010, going onto navigate more than 500 pieces of legislation through parliament.
Dr. Death
While independents and small parties like the Greens have held the balance of power in the Senate in all but three of the past 30 years, the difference this election is the quantity of parties vying for a seat. There were 17 added to the register in July alone including Drug Law Reform Australia, which wants to decriminalize recreational drug use, and the Voluntary Euthanasia Party, headed by Philip Nitschke, who the media has dubbed "Dr. Death."
Since toppling Gillard as prime minister in a party-room vote on June 26, Rudd has moved to address issues that eroded Labor's support: reforming party rules to make the leader's job more secure, announcing policies to deter the arrival of asylum seekers by boat, and bringing forward the date a carbon trading program will replace a carbon levy.
Today, Rudd's government announced it will increase taxes on tobacco to raise an extra A$5.3 billion ($4.7 billion), as it seeks to offset a revenue shortfall. Opinion polls show Labor has closed the gap with Abbott's Liberal-National coalition.
Rudd Transformed
"Rudd's return has completely transformed the situation," according to Malcolm Mackerras, a political analyst at the Australian Catholic University in Canberra. In April, the author of books including "Australian Political Facts" predicted a coalition victory by 48 seats. Now, a Labor win or hung parliament in the lower house can't be ruled out, he said.
The Greens, the nation's third-biggest party in the upper house, are betting its opposition to offshore processing of asylum seekers and a lower carbon price will boost its presence in the Senate, where legislation must be ratified to become law. The party is confident the three candidates it has up for re-election will be returned and it can add to the nine seats it now has, according to leader Christine Milne.
"The real risk is Abbott gaining control of both houses, which could happen if one of the micro-right wing parties is able to snare a Senate seat through preference deals," Milne said in a July 28 interview. "It's critical the Greens hold the balance of power in the upper house."
Abbott Pledges
Abbott has vowed to scrap the carbon trading plan and Labor's 30 percent levy on iron ore and coal mining company profits. He's pledged a cheaper national broadband network, and using the military to escort asylum seeker boats out of Australian waters.
As well as selecting lower house lawmakers representing 150 electorates, Australia's 14.5 million voters will decide on half the nation's state seats in the 76-member upper house.
The influx of new parties has led the Australian Electoral Commission to order 100,000 magnifying glasses to help voters read ballot papers that will be printed in a tiny 6-point font to cram in all the contenders' names. The total number of candidates won't be known until after the election is called.
Given a voting system that lets voters indicate an order of preference for candidates, contestants with negligible first-choice selections can be elected. That happened in 2004 when creationist Steve Fielding, who went on to cast decisive votes on laws regarding media ownership, won a Senate seat after his Family First Party snared just 2 percent of the vote in Victoria state. In 1984, Jo Vallentine won a seat while campaigning for the now defunct Nuclear Disarmament Party.
Wikileaks Party
Among those who've said they are standing is Assange, one of seven candidates for his Wikileaks Party, despite being holed up inside Ecuador's embassy in London for more than a year as he seeks to avoid extradition to Sweden for questioning over allegations of rape and sexual molestation. Assange, who gained notoriety for releasing thousands of U.S. classified military and diplomatic cables, didn't reply to emails seeking comment.
Clive Palmer has found time from running his coal, iron-ore and nickel assets to form the Palmer United Party. The entrepreneur, who also plans to build a replica of the Titanic, said he will field candidates in every lower house seat as well as Senate aspirants.
"The current lot are hopeless," Palmer said in a July 27 interview from Brisbane, referring to the major parties. His party can win up to 10 Senate seats, he said, citing the banning of political lobbyists as his most important policy.
Katter Factor
Bob Katter, a social conservative who opposes gay marriage and gun controls, has formed Katter's Australian Party. His economic policies could stymie Rudd or Abbott if the party wins upper house seats.
Katter, who holds a lower house seat, opposes free trade agreements with Asian nations, increased foreign investment, and any sale of state-owned assets. He didn't reply to emails seeking comment.
"Palmer and Katter come from a tradition of provincial, rural Australia being represented by these strong, larger than life characters," said Stephen Stockwell, a political analyst and Griffith University professor of journalism and communications in Brisbane. "The conservative coalition in particular may be concerned they may take votes from them to grab one of the last state senate seats."
Brian Harradine
All six states are equally represented in the upper house with 12 senators apiece, despite disparate population sizes. In the mid-1990s Brian Harradine, an independent from Tasmania -- an island state with less than a 10th of the population of New South Wales -- held the balance of power and was instrumental in passing landmark laws on restricting indigenous land rights and approving the partial sale of state-owned Telstra Corp.
The complexities of counting Senate votes means it usually takes about a month for all the winners to be declared. Those winning seats this year will serve their six-year terms from July 1, 2014. As well as the six vacant slots from the states, the Northern Territory and Australian Capital Territory will have both their two seats apiece up for election.
In the current Senate, the coalition holds 34 seats and Labor 31, with the balance of power held by the Greens with nine, and minor parties and independents the remaining two.
Since the last election, the cost of fielding candidates in the Senate has doubled to A$2,000 apiece. Parties can register for a A$500 fee and must show the backing of 500 members.
Dysfunctional Concern
"The parliament clearly has some level of concern" about whether the increased number of candidates will make the electoral process dysfunctional, AEC spokesman Phil Diak said.
Fiona Patten says the system works. The former sex worker and political lobbyist is seeking a Victorian state Senate seat via her Australian Sex Party, with policies including legalizing voluntary euthanasia, marijuana use and same-sex marriage.
"In most other countries there's a much wider variety of voices heard in parliament," Patten said in a July 30 interview. "Because our Senate is the house of review, it makes those alternative voices even more important."
Other parties include the Coke in the Bubblers Party and the Pirate Party Australia.
The names "may be weird and wacky, but the repercussions are deadly serious," said Andrew Hughes, who conducts political-marketing research at the Australian National University in Canberra. "Whichever side forms government will have to deal with these minor parties and independents to turn their policies into law."
Before it's here, it's on the Bloomberg Terminal.
LEARN MORE