Fix Overcapacity, or Go for Growth? China Waffles
By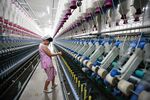 So what's it going to be? Maintaining high-speed economic growth, or cleaning up overcapacity in steel, aluminum, cement, and shipbuilding? For now, Chinese officials are sounding like they want it both ways. That, however, may be an impossible proposition.
Even as the party paper People's Daily quoted a ministerial official warning that overcapacity could "trigger a systemic crisis," China's President Xi Jinping the very same day was promising that economic growth this year will not fall below 7.5 percent. That followed Premier Li Keqiang making a similar pledge to ensure GDP growth earlier this month.
China will "maintain steady growth, adjust economic structure, and forge ahead with reform" while ensuring "this year's key tasks for economic and social development will be fulfilled," according to a statement released after a July 30 Politburo meeting in Beijing, presided over by Xi. The government plans to guarantee there is "stable macroeconomic policy, flexible micro policy, and social policy that can support the bottom line," the statement continued, the official English-language China Daily reported July 31.
There is no doubt that years of investment-driven growth have saddled China with way too much manufacturing capacity. At the same time, it has contributed to China's formidable pollution problems and wasted scarce energy resources. The trouble is that the overinvestment has ensured that China's GDP growth won't slow too quickly. Overinvestment buttressed the Chinese economy when the 2008 global financial crisis hit. The same drive to build more ships and cement yards created jobs for China's 230 million migrant workers.
Over the past few years, China has added 18 million metric tons of aluminum capacity, while only 800,000 tons were approved by the central government, according to the People's Daily report. The result: Aluminum plants are running at only 71.9 percent of capacity. Capacity utilization in steel plants has fallen to 72 percent of potential output, while the figure is 73.7 percent for cement factories (China also has 800 million tons of unapproved cement capacity). All these utilization rates are below what is common internationally, the People's Daily reported. And that is putting downward pressure on prices and hurting industrial enterprises, according to Zhu Hongren, chief engineer for China's Ministry of Industry and Information Technology, the party paper reported.
To lure investment, local governments offer goodies that include cheap or even free land, as well as low taxes, subsidies, and credit support. These practices have "affected the normal investment decision of enterprises," Zhu warned. The overcapacity problem "will seriously affect the healthy development of the economy."
The latest mixed signals on whether to emphasize growth or rein in rampant investment follow last week's announcement that Beijing has ordered production cuts at 1,400 companies in 19 industries, including copper smelting, chemical fibers, and papermaking, to curb excess capacity this year. But how can China keep the economy humming even as policymakers slash production capacity? (Household consumption hasn't picked up fast enough to replace investment as a driver.) So far, Chinese officials haven't come up with an answer.
Before it's here, it's on the Bloomberg Terminal.
LEARN MORE