Bill Ackman's $2 Billion Bet
by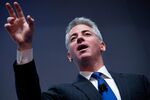 The suspense (if you want to call it that) is over. Feared activist hedge-funder Bill Ackman is making his biggest investment ever: a 9.8 percent stake in industrial-gas producer Air Products & Chemicals. His Pershing Square Capital Management's stockpile in the Allentown (Pa.) company's shares cost $2.05 billion and is now worth $2.2 billion, Ackman said in a Wednesday e-mail. Agitation will be in the offing.
Earlier this month, in a letter to investors, the hedge fund manager said he would be raising money to target a large-capitalization, investment-grade U.S. corporation that principally operates in one business. "The business is simple, predictable, and free-cash-flow-generative, and enjoys high barriers to entry, high customer switching costs and substantial pricing power," Ackman wrote. Turns out it was Air Products.
The target, which has a market capitalization of $22 billion, has seen its shares gain just 11 percent over the past five years, compared with a 34 percent gain for the Standard & Poor's 500-stock index. "The company has lower margins than a lot of its peers," James Sheehan, an analyst at SunTrust Robinson Humphrey, said in an interview today on Bloomberg Radio's Surveillance. "He may push for them to divest some of their noncore businesses."
Anticipating battle, Air Products adopted a poison-pill shareholder rights plan on July 25, citing unusually high volumes of stock trading. The poison pill makes a hostile acquisition difficult by giving existing investors the right to acquire deeply discounted new shares should another person or group acquire 10 percent of the company without board approval. It seems to have worked for now. Ackman certainly had enough money to cross the 10 percent threshold, but he stopped short at 9.8 percent. Citing the poison pill, Ackman said that Pershing Square raised "more than we could spend" for the Air Products position.
In a July 31 statement, Air Products said that while it has not been contacted by the hedge fund, "it welcomes new investors and looks forward to engaging with Pershing Square to understand its views." It also indicated it would take the temperature of shareholders to get their thoughts on Ackman's move.
Ackman's going on the activist offensive again after lately having to defend a series of bad bets. Shares of Pershing Square holding J.C. Penney, for one, have tanked; in April, the company ousted its chief executive, Ron Johnson, whom Ackman had handpicked in 2011 to spearhead its turnaround. In December, Ackman disclosed that Pershing sold short more than 20 million shares of Herbalife, alleging that the weight-loss company was nothing but a pyramid scheme; the stock is up 90 percent this year. Ackman's activist rival Carl Icahn, who took the other side of that trade, has since been rubbing it in. And this just in:  George Soros likes Herbalife too.
Pershing Square has some catching up to do. Through the end of June, its main fund is up 6.3 percent this year, or about half the 13 percent returns that competitor Daniel Loeb's Third Point Offshore Fund has posted in the first half of 2013. Nelson Peltz's Trian Partners climbed 14 percent through June 14. Meanwhile, the S&P-500 was up 13 percent.
Before it's here, it's on the Bloomberg Terminal.
LEARN MORE