Australian Manufacturing Slumps as Currency Fall Insufficient
Michael Heath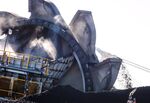 A gauge of Australian manufacturing slumped in July as a decline in the currency and earlier interest-rate cuts failed to boost exports and local demand.
The manufacturing index dropped 7.6 points to 42 last month, the biggest decline since April, the Australian Industry Group said in a survey released today. The last reading above 50, the divide between expansion and contraction, was in February 2012.
The Australian dollar dropped below 90 U.S. cents this week and slumped 12 percent in the second quarter, after holding above $1 from mid-June last year to May 9, the longest stretch above parity since it was freely floated in 1983. While the Reserve Bank of Australia left rates unchanged at a record-low 2.75 percent for the past two meetings, investors are pricing in a 91 percent chance of a reduction next week.
"Manufacturers are telling us that, while the fall in the Australian dollar and the May interest rate cut have been extremely welcome, they have not yet been enough to turn around a very challenging business environment, locally and internationally," Innes Willox, AIG's chief executive officer, said in a statement. "In fact, the drop in the currency has fueled higher prices for imported inputs without any real corresponding improvement in stronger exports into what remain fiercely competitive markets."
The RBA has reduced rates by 2 percentage points since late 2012 and is aiming to rebalance the economy toward employment-intensive industries including residential construction as a mining investment boom wanes and China's outlook remains clouded.
Governor Glenn Stevens, in a speech this week, said second-quarter inflation data suggests there's still room to lower interest rates if required and that he wouldn't be surprised if the currency dropped further. The RBA's inflation targeting framework has sufficient flexibility and credibility to manage the impact on inflation of the falling Australian dollar, he said July 30.
Before it's here, it's on the Bloomberg Terminal.
LEARN MORE