American Automobile Glut? Unsold Cars Are Piling Up
By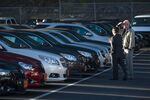 Even with U.S. car sales zooming along, there are some signs automakers might be stepping on the gas a little too hard.
Some 3.27 million new cars are now sitting on lots across the U.S., more than there have been in almost five years, according to Automotive News. That's a lot of cars—just enough to equip every man, woman, and child in the state of Iowa with a new vehicle, and just slightly less than the number of iPhones added to Verizon's network last quarter. A year ago at this time, by contrast, there were 2.7 million vehicles lying in wait across the country; summer 2011 saw an inventory of about 1 million fewer cars.
Inventory is a dirty word to most supply-chain managers. After all, it was a "just-in-time" factory system that helped Toyota muscle its way to the top of the industry, and there's nothing timely about 3 million unsold cars. But there are a few, very real reasons for car executives to be confident. For one, interest rates are still relatively low and car loans are easy to come by, even for those with poor credit. There is pent-up demand because the 2008 recession spooked so many drivers into holding on to an aging ride for a little while longer.
Roughly 100 million cars in the U.S. are between seven and 12 years old, the "sweet spot" for high-maintenance repairs, according to Bloomberg analyst Kevin Tynan. At the pace Americans were buying cars last month, dealers can sell the current backlog in 61 days, which Tynan calls a "manageable" number. In January, supply was at 75 days.
But August isn't the best time for dealerships to be full, as most 2014 models will be rolled out in September. Some carmakers are flirting with a potential glut. General Motors, for example, has enough Cadillacs finished to meet demand for more than four months. It also has 85 days' worth of Buicks ready to roll. (At the other end of the spectrum, Toyota and Subaru are running lean—current U.S. inventories for both companies should be gone in less than 60 days.)
Looking for a deal on a vehicle in the next month or two? Dealership lots that stock American automakers appear to be ripe for bargain seekers.