Why China Is Hoarding Hollywood's Box-Office Profits
by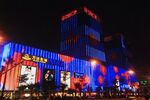 As Hollywood movies have raked in hundreds of millions of dollars playing in Chinese theaters in 2013, the films' studios have apparently enjoyed none of the profits. A state-owned distributor, China Film Group, is refusing to share any box-office payments, according to the Hollywood Reporter, over a disagreement involving a new 2 percent tax increase that China has leveled at U.S. film studios.
In a World Trade Organization agreement between China and the U.S. last year, China said it would pay foreign film studios 25 percent of their box-office revenue, up from the 13 percent to 17 percent range in the previous agreement. China Film Group initially said no additional fees or taxes would come out of that 25 precent, but for reasons that are unclear it changed its mind and introduced an additional levy on all box-office payments. Hollywood studios have so far refused to pay up because, they say, the new tax wasn't part of the WTO agreement. As a result, China has been holding box-office payments hostage in what's been a silent international standoff that has stretched on for months.
That means recent multimillion-dollar blockbusters in China, such as The Hobbit and Man of Steel, haven't brought in a single penny for distributor Warner Bros. Motion Picture Association of America Chairman Chris Dodd is reportedly in discussions with China Film Group to work out a solution.
In Hollywood, the China issue is a touchy one. The country brought in an estimated $2.7 billion in total box-office revenue in 2012. The market for theatrical films in China has grown exponentially in recent years—up 37 percent from 2011 to 2012—and Hollywood filmmakers have bent over backward to appeal to Chinese moviegoers in the interest of profits.
Director Quentin Tarantino edited out certain scenes of Django Unchained to get his movie approved by the country's heavy-handed censors, and the Chinese version of the college comedy 21 & Over had new scenes shot in China that altered the film's message to be a warning against "our wayward, Western partying ways," as writer and director Jon Lucas told the Los Angeles Times. In even more blatant pandering, the overseas version of Iron Man 3 featured cameos by Chinese celebrities, while Paramount Pictures held a Chinese reality show competition for people vying to win a role in director Michael Bay's upcoming Transformers 4.
Iron Man 3 is one of the movies for which Hollywood hasn't been paid: Warner Bros. is due $31 million for its Chinese success with the comic book blockbuster. Although, it's at least comforting to know that those missing box-office profits are part of a tax dispute—and not because the film's villain was named the Mandarin.
Before it's here, it's on the Bloomberg Terminal.
LEARN MORE