The U.S.'s Mid-Sized Mobile Carriers Surrender to the Giants
Kevin Fitchard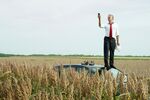 Back in the mid-2000s, the U.S. boasted a pretty vibrant community of mid-sized regional mobile providers. Alltel ruled over the rural providers, with 12 million subscribers and a bigger coverage area than even the nationwide carriers, while multiple operators—from Dobson Communications to Centennial Wireless—boasted millions of subscribers. They were forces.
No more. In the last five years, those carriers and many more have been gobbled up by the national carriers. And the Big 4 have come back to the operator buffet for more. In May, the biggest of the regionals, MetroPCS, was subsumed into T-Mobile. AT&T is now trying to buy up the remnants of Alltel—along with Leap Wireless, the carrier currently occupying the No. 5 slot.
If the Leap deal closes, only a single carrier apart from the Big 4 will remain to serve more than 1 million subscribers: U.S. Cellular still hosts 5 million mobile connections—but it's shrinking, not growing. It abandoned its two largest cities in June, selling operations in Chicago and St. Louis to Sprint and shedding half a million customers in the process.
Have the smaller operators just given up on the mobile business? I put the question to a couple of veterans of the regional carrier world.
Pat Riordan, president and chief executive officer of Wisconsin CDMA operator Cellcom, gave me an interesting statistic. When the merger and acquisition dust clears at the end of the year, Cellcom will probably move into the top 10 rankings of U.S. carriers by subscriber, he says.
Cellcom has a mere 300,000 subscribers. Verizon Wireless adds that many new customers to its rolls in a bad quarter. Riordan says this paints a perfect picture of the current state of the U.S. mobile industry: Four huge operators on one side and about 125 small regional and rural players on the other. The big carriers manage more than 95 percent of the mobile connections in the country, while the Cellcoms of the country split the remaining 3 percent or 4 percent.
"That mid-sized group has just thinned out," Riordan says. "Leap and MetroPCS were two of the last big ones, and there was always this hope that they would merge." That hope ended when the T-Metro merger closed. Riordan says the deal wrote the obituary for any effort by a large regional provider to challenge the Big 4 in big cities. "I couldn't see Leap lasting long, once Metro sold out," Riordan says. "They were both offered prices that they couldn't turn down."
Riordan predicts further carrier buyouts before this consolidation wave is done. In fact the big carriers are already shopping for tiny operators. Last week, Iowa's Long Lines revealed AT&T will be taking over its rural mobile business. But Riordan says there are still a lot of resilient small operators in the country—companies that have been providing telecom service for generations and that carry little or no debt.
Green Bay, Wisc., isn't New York, but it's no  hamlet, says Riordan. (The city hosts an NFL team you might have heard of.) Cellcom goes head-to-head against Verizon, AT&T, and Sprint in its hometown and it remains the dominant carrier in northeast Wisconsin. It was one of the first small regionals to launch LTE, and it has managed to secure devices such as the iPhone and high-end Android smartphones that are deemed necessary to stay competitive.
"I know large companies think small companies should all sell out, but we don't agree," Riordan says. "We think we're still in a rapid growth stage."
Still, Riordan turns pessimistic when I ask if those small regional carriers would ever grow into big ones. The mobile industry has Balkanized, he says; if a company is not already a force in a given market, it stands little chance of becoming one. That's why U.S. Cellular had to retreat from Chicago. It arrived late in both cities and couldn't compete with the entrenched national operators.
As you might expect from the head of the largest regional operator lobbying group in the country, Competitive Carrier Association President and CEO Steve Berry is still positive about the prospects for small carriers in today's America. But he acknowledges that the operators he represents are at a critical juncture.
Small and big carriers have always has a symbiotic relationship in the U.S. The nationwide operators set the technology and the device agendas, and the smaller carriers followed their lead. Regional and rural operators would build the same networks in the country's hinterlands, which the big operators would use to extend their footprints through roaming agreements. The small operators could then gain access to the same devices used by their larger counterparts.
This all stopped with the advent of 4G, Berry says. The 700 MHz auctions over the last decade laid the foundation for today's LTE networks. Instead of treating that spectrum as a unified band, however, AT&T and Verizon carved boutique bands out of 700 MHz, effectively blocking other licensees from using the same smartphones, tablets, and mobile hotspots.
Without assurances that they will get compatible devices, small carriers can't justify building LTE networks, Berry says. Consequently, only a few regional providers—mainly those with access to alternate spectrum—have deployed LTE. The rest are left with practically worthless licenses.
If the CCA can win concessions from the Federal Communications Commission, mandating interoperability and ensuring that minor carriers can compete in the next spectrum auctions, the small carriers will thrive, Berry said. Their future could otherwise be quite grim. While small carriers are caught in LTE limbo, the big operators are hovering with checkbooks at the ready. AT&T and Verizon may not want the small guys' 700 MHz spectrum, but they are eyeballing the frequencies they're already using for 2G and 3G services—especially in bigger markets.
"A lot of this is driven by the fact there's a spectrum crunch," Berry says. "The largest carriers are trying to top off their tanks, ensuring they have as much spectrum as possible before we get to the next auction. … Small carriers are rationalizing their spectrum holdings, and you have two large carriers with a lot of money to spend."
The mobile acquisitions we're witnessing today are not the same as the acquisitions of five years ago. In the past, carriers bought other carriers for their networks, customers, and market presence.
That's no longer the case. T-Mobile, a GSM operator, took over CDMA carrier MetroPCS and immediately started shutting down its networks. T-Mobile is holding on to the Metro brand, but in two years little will remain of the billion-dollar networks Metro built. The same will happen to Leap if the AT&T deal closes.
Those carriers' value inheres in their licenses, which can be used to augment an acquirers' current and future mobile broadband networks. The big carriers have become chop shops, buying up smaller counterparts and stripping them of airwaves. The most valuable frequencies are in areas whose density and demand are highest. Consequently carriers that hold licenses in the bigger cities—such as Leap and Metro—get scooped up first.
What's really messed up about this trend is that in areas where you might think competition is fiercest, consumers will have the lowest number of carriers to choose among. In my home city of Chicago, only four operators will run their own networks, once Leap has been acquired: AT&T, Verizon, T-Mobile, and Sprint. Meanwhile, Charlottesville, Va.—a city of 43,500 people—hosts six carriers: the Big 4, plus U.S. Cellular and NTelos.
We're getting stuck in a mobile landscape divided between urban and rural, with nationwide mega-carriers dominating the cities and tiny regional providers surviving in towns and modest communities. There might be no room for anything in the middle.
Also from GigaOM
What Mattered In Mobile in the Second Quarter (subscription required)
Got a Laggy Old Nexus 7? Here's Why Android 4.3 Will Restore Its Performance
Vimeo and Redbox Instant Are Coming to Chromecast. Next Up: Plex and HBO Go?
Airbnb Is Engineering Itself into a Data-Driven Company
Netflix Starts Rolling Out Personalized User Profiles, with Separate Queues on Apple TV
Before it's here, it's on the Bloomberg Terminal.
LEARN MORE