The Tax Man Cometh... to Chattanooga, Tennessee
by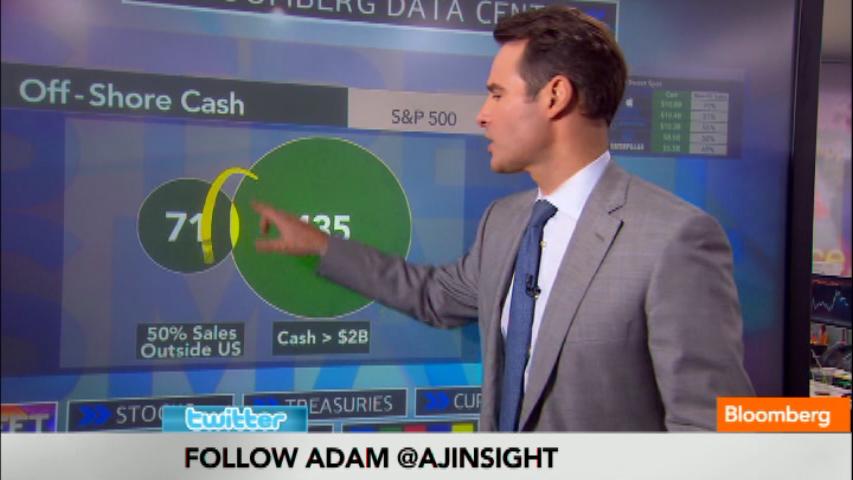 President Obama will speak today at a new Amazon distribution facility in the state to promote corporate tax law changes intended to spur U.S. hiring. Specifically, he's proposing corporations repatriate profits earned and held abroad at a rate significantly lower than current tax rates. In exchange, they must commit a certain amount to retraining and hiring.

U.S. companies may hold as much as $2T abroad, attracting attention on both sides of the aisle. House Ways and Means Chair Dave Camp (MI-R) has floated a proposal similar to the president's as part of a deal which would ultimately raise the debt ceiling in exchange for lower entitlement spending. Yes, there are a lot of moving parts here, so take it in stride. By the same token, any proposal with bi-partisan backing is rare these days and merits our attention as a potential catalyst for stocks.
The question: which stocks? Well, 135 companies in the S&P 500 have cash on-hand of at least $2B, and 71 garner at least 50 percent of their sales outside the U.S. These are the companies in the sweet spot, the most likely beneficiaries of a potential repatriation policy change.

We presented on-air the top five companies fitting into the sweet spot of high non-U.S. sales and high cash on-hand. In fact, eighteen companies in total met our criteria. Blog readers will appreciate seeing the additional thirteen companies listed here.

Apple Inc. (AAPL ), Aflac Inc. (AFL ), Altera Corp. (ALTR ), Boeing Co. (BA ), Caterpillar Inc. (CAT ), DuPont Co. (DD ), Dow Chemical Co. (DOW ), Fluor Corp. (FLR ), Corning Inc. (GLW ), IBM Corp. (IBM ), Intel Corp. (INTC ), KLA-Tencor Corp. (KLAC ), McDonald's Corp. (MCD ), 3M Co. (MMM ), Mosaic Co. (MOS ), Micron Technology Inc. (MU ), Philip Morris International Inc. (PM ), Qualcom Inc. (QCOM ).
Before it's here, it's on the Bloomberg Terminal.
LEARN MORE