business
The Day Everything Changed in the World of Potash
By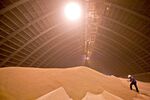 The news out of Russia was fairly stinky for the fertilizer industry. One of the two global potash groups, known as Belarusian Potash Co., collapsed on Tuesday after the world's single-biggest producer, Uralkali, said it would begin boosting its exports and no longer adhere to production limits. The other major seller, Canada-based Canpotex, had set matching prices in many major markets.
The demise of BPC means that potash prices may dip below $300 per ton, Uralkali Chief Execcutive Officer Vladislav Baumgertner said in a Bloomberg News report. The company will boost its production to 13 million tons next year, from 10.5 million in 2013, as it seeks to expand sales in China. The dissolution of the two-party potash system, meanwhile, provoked a swift reaction for the stocks of U.S. and Canadian producers, some of which lost a quarter of their value in Tuesday morning trading before recovering somewhat: Potash Corp. of Sasketchewan fell 16 percent, Mosaic of Plymouth, Minn., lost 18 percent, and Calgary-based Agrium was down 6 percent.
"When you're in the potash business, you have to take a long-term view of the market," said Bill Johnson, a spokesman for Saskatchewan-based Potash Corp. Canada has the world's largest reserves of potash, the potassium chloride mineral mined for use in agricultural fertilizers, followed by Russia. "It's important not to overreact too much to news like this," he said. That sentiment was echoed by Agrium spokesman Richard Downey: "This is not the first time that Russian producers have had disagreements," he wrote in a e-mail. "It is important not to overreact to a single statement from one player in the industry, and we plan to continue with the normal course of operations."
Such views were decidedly in the minority today amid a glut of amplified commentary. "This is as if Saudi Arabia left OPEC—for the potash sector, this is huge," Jeremy Redenius, a Sanford Bernstein chemicals analyst in London, told the Financial Times. "The end of the potash world as we know it," said Joel Jackson, an analyst with BMO Capital Markets in Toronto.
While investors certainly were jolted, some analysts said Uralkali was not aiming to start a price war that would harm the industry's profits. Like this view from an Integer Research note, quoted by Mining.com:
A lower potash price is necessary to stimulate demand and discourage new entrants. Prices might fall in the near term, but we do not expect to see a price war. The breakup of BPC still leaves over 50% of global capacity in the hands of two marketing companies—Canpotex and Uralkali Trading—down from around 65% before the announcement, and it remains an oligopoly business. The potash industry has long avoided cost-based pricing and it remains in no producer's financial interests. The price only needs to drop to a level which will discourage new entrants to have the desired effect.
Even before the thunderclap from Russia, potash producers were struggling with a decline in prices as Indian farmers held off buying earlier this year. On July 25, Potash Corp. reported that its per-ton price had slipped to $356 in the second quarter, from $433 a year earlier. Prices peaked above $840 per ton back in 2009.
(
Updates characterization of potash marketing groups.
)
Before it's here, it's on the Bloomberg Terminal.
LEARN MORE