JPMorgan's $410 Million FERC Settlement: Is Dimon Waving the White Flag?
Paul M. Barrett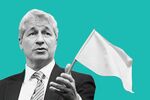 There are several ways to read JPMorgan Chase's $410 million trading-manipulation settlement with the Federal Energy Regulatory Commission.
First, the background: The largest U.S. bank agreed to pay a civil penalty of $285 million and return $125 million in ill-gotten profits to electricity ratepayers in California and the Midwest, according to the FERC. The deal resolves one component of an industrywide federal investigation of efforts to game the power markets. JPMorgan also agreed to relinquish $200 million in claims against the California electric-grid operator, so you could say that its settlement cost a total of more than $600 million, making it one of the largest of its kind. As is the practice with such arrangements, the bank didn't admit to any wrongdoing. JPMorgan spokesman Brian Marchiony offered the standard comment: "We're pleased to have this matter behind us."
What does this mean? One plausible interpretation emphasizes JPMorgan's undeniable black eye. Who, after all, wants to pay hundreds of millions of dollars to resolve federal accusations of ripping off mom-and-pop electricity customers? Our cousins at Bloomberg News adopt that view:
The case marks another setback for JPMorgan, which sailed through the 2008 financial crisis without a single quarterly loss. Last year JPMorgan lost more than $6.2 billion from wrong-way derivatives bets placed by traders in London. The incident prompted a U.S. Senate investigation, the departure of two senior executives and a debate over whether Chief Executive Officer Jamie Dimon, 57, should keep his chairman role. In May shareholders re-elected him as chairman.
A slightly different, if not contradictory, take on the settlement stresses that last sentence from Bloomberg News: Dimon survived—handily, as it happens—and JPMorgan is methodically working its way through a thicket of regulatory problems. The bank, in this interpretation, is signaling broadly to the federal government that it wants peace, not war, and is willing to retreat to achieve its goal. Evidence supporting this analysis surfaced on July 26 when JPMorgan let it be known that it was considering selling or spinning off its physical commodities business, including energy trading. That announcement came just three days after a congressional hearing looked at whether large banks are using their ownership of metals and other raw materials to manipulate markets with the effect of driving up prices on such items as soda and beer cans. In this view, Dimon is attempting a classic white-flag strategy, trying to convince regulators to call off their multi-front offensive.
Whichever read you prefer, one big question remains in terms of the leadership at JPMorgan: What happens to Blythe Masters, head of the bank's global commodities business and one of the highest-profile women on Wall Street? She oversees the unit implicated in the FERC settlement. She also oversees the agricultural products and metals operations that JPMorgan has said it will offload. Does the bank intend to offload Masters as well?
To be clear: While FERC investigators initially named Masters and several of her traders as personally responsible for a variety of deceitful power schemes, the settlement itself does not hold them individually culpable. All the individuals have denied wrongdoing. JP Morgan has resolutely stood behind Masters, 44. She began working for the bank in London in 1987, before she even attended university. She rose swiftly: In the 1990s she had a hand in developing and marketing credit derivatives, which some critics blamed for helping cause the 2008 Wall Street crash. Over the years, Masters has served as a public face for JPMorgan and the financial industry at large. She has forged close ties to Dimon.
Yet intense controversy has swirled around her lately. That makes it logical to ask whether the resolution of the FERC investigation creates an opportunity for Dimon to send one more conciliatory signal to Washington in the form of the departure of his commodities chief.
Before it's here, it's on the Bloomberg Terminal.
LEARN MORE