business
JetBlue's Aging Engines Become a Big Cost Problem
By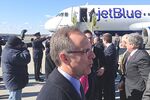 An airline executive's job is pretty straightforward: Keep seat capacity in check to help boost fares and passenger revenues while battling every possible cost, watch profit margins expand, and thereby please investors. At JetBlue Airways, however, none of those things have been happening.
The airline reported a huge surge in expenses in the past quarter, led by the costs for engine maintenance on its fleet of 58 Embraer E190 jets. Maintenance expenses jumped 31 percent in the second quarter to $111 million as the airline attempted to fix performance issues with the General Electric engines that power the 100-seat planes. Overall expenses rose 7.5 percent while JetBlue's profit margin shrank 2.6 percent.
A big part of the cost story has been the work JetBlue needed to undertake on about 30 of those GE-made CF34-10 engines—a new model back in 2005, when JetBlue became the first operator of the Embraer model. Last year, with the engines getting on in years, JetBlue began noticing performance problems that involved "peripheral parts" of the engine, JetBlue Chief Financial Officer Mark Powers says. About 20 engines have been overhauled so far, and the rest will be repaired this year.
"This airplane and this engine are really, really important to our Boston operation, and our Boston operation has a huge business audience. So reliability is critical," Powers says. "We were not delivering that performance, and it became clear that we just had to get ahead of it." Airline executives concluded that the GE motors' performance needed to be addressed quickly, despite the cost. "Budgets be damned," the CFO says of the decision, which led to the accelerated engine work now rippling across JetBlue's balance sheet.
In June, the airline signed a 10-year maintenance deal with GE to help lower the cost of its engine-maintenance program, shifting more of the financial burden to the manufacturer. Beyond the engine problem, JetBlue also faces an unknown expense to pay pilots following its loss in a labor-compensation arbitration ruling this year. The company booked a $3 million liability this spring, based on its calculation of what it may need to pay. Next year, JetBlue will begin negotiating a new contract with its 2,400 pilots, adding to cost pressures.
The Embraer plane itself has been something of a long-term headache for JetBlue, which encountered software glitches with the highly computerized plane not long after taking its first deliveries. That, in turn, reduced the airline's dispatch reliability just as the new plane was supposed to begin optimizingits network, which previously had been served only by larger Airbus A320s. Earlier this year, Embraer selected a new, rival engine from United Technologies' Pratt & Whitney division to power the plane's next generation.
"Teething pains are just sort of a fundamental part of the incredible physics behind jet engines," says Powers, a former employee of GE Aviation, the conglomerate's jet-engine division. "So here we are."
Before it's here, it's on the Bloomberg Terminal.
LEARN MORE