pursuits
How Fox News Turned a Scholarly Tome on Jesus Into a Bestseller
By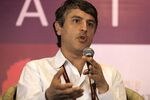 It was cable TV's perfect storm, playing out in an online-only venue: a Muslim author, a Fox News anchor, and a book about the historical figure of Jesus. Religion scholar Reza Aslan sat for that rather awkward interview on Friday with Foxnews.com anchor Lauren Green, host of a show called Spirited Debate, while making the rounds for his new book, Zealot: The Life and Times of Jesus of Nazareth. Three days and millions of clicks later, Aslan's scholarly tome with extensive footnotes had unseated even the mighty J.K. Rowling to become the No. 1 seller on Amazon.
Throughout the now-famous conversation, Green repeatedly questioned Aslan's motives for writing a book about Jesus, given his own identification with a different religion. At one point she even accused him of hiding his faith from his readers. Aslan swiftly debunked the charge by directing Green to the second page of his book, on which his Muslim identity is made plain. The career academic spent much of the encounter reciting the relevant parts of his CV with the deliberate cadence that one reserves for a small child. If you haven't seen it, the roughly 10-minute segment can been seen in full:
Whatever your response to the conversation, don't spend too much time feeling sorry for Aslan. His brush with the folks at Fox News yielded a miraculous marketing coup for his biography. As the video spread from Twitter to Buzzfeed and Facebook—provoking the kind of pro- and anti-Fox News sentiment typically reserved for election years—Aslan's a deeply researched look at Jesus's life as a man zoomed past Rowling's pseudonymous crime novel, The Cuckoo's Calling, as well as This Town, Mark Leibovitch's gossipy, insider account of life in the nation's capital. The Aslan book's publisher, Random House, quickly ordered an additional 50,000 copies of the book, according to the New York Times.
That's right, the hottest read in America right now is a thick volume on ancient history by a scholar who touts his own fluency in Biblical Greek.
One can expect cable TV culture clashes such as these inevitably to spill over into social media, and the Aslan affair was no exception. But it was more surprising to see outrage over the interview cross over from Amazon's sales charts into its user-generated book reviews. The typically sober reader forum, with one- to five-star reviews, almost instantly became a sea of harsh words and five-paragraph book reports by Aslan's critics and defenders. So far, Zealot has more than 400 reviews—a large number of them from people who clearly haven't read the 336-page book.
Some embrace Zealot:
Don't listen to the media hype—this book is not written by an author with an agenda, but by one of this era's great religious scholars," writes "Impressed Reader." "Reza Aslan's intellect is monumental—but by the end of his book, you'll be the one feeling smart.
Some noted the coincidence of the author's name with a certain feline character from the work of devout Christian author C.S. Lewis. From the reviewer "C.S. Lewis says:"
"Wrong will be right, when Aslan comes in sight,
At the sound of his roar, sorrows will be no more,
When he bares his teeth, winter meets its death,
And when he shakes his mane, we shall have spring again."
—C.S. Lewis, The Lion, the Witch, and the Wardrobe
Some voiced skepticism: "The book has an underlying tone of sarcasm, it's subtle, but it's there," writes Kar from Chicago. "I find it amazing that this one gentleman seems to think that he has found the answers as to what Jesus of Nazareth was doing, and what He was thinking during the periods of His life that aren't explained in the New Testament. This book is a feeble attempt at explaining Jesus of Nazareth away as a rebellious politico."
Then there are the downright furious: "This is a tactic the devil has been using since the beginning of time—write a book attacking the greatest man who's ever lived and watch sales fly through the roof," wrote "Christian." "For we wrestle not against flesh and blood, but against principalities, against powers, against the rulers of the darkness of this world, against spiritual wickedness in high places. Hope you enjoy all the money you're making Mr. Aslan as it will be short lived—JESUS CHRIST OWNS THIS WORLD"
Whether or not his success is indeed fleeting, no on can argue with the fact that it's Aslan who currently owns the bestseller lists.
Before it's here, it's on the Bloomberg Terminal.
LEARN MORE