Colleges With Lenient Grades Get Six Times as Many Grads Into B-School
Louis Lavelle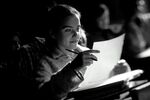 Anyone planning to apply to a top MBA program might want to avoid schools that take a tough stand against grade inflation. New research shows that selective programs are more likely to choose applicants from schools that award a lot of easy As.
The study, by researchers at Harvard Business School and Haas Business School at the University of California, Berkeley, and CivicScience, a polling research organization, involved several experiments. In one, 23 members of the undergraduate admissions staff at a U.S. university were asked to play the role of admissions staff at a selective MBA program. They received information on fake applicants, including GPA, the average GPA of the applicant's institution, and 10 recently completed courses, including the candidate's grade and the average for the course.
The upshot? Candidates from schools with tougher grading practices were admitted 12 percent of the time, while those from schools with more loosey-goosey grading practices were admitted 72 percent of the time. The authors said the findings "suggest that candidates who happen to graduate from schools with higher grading norms may actually have a better chance of being accepted to college or graduate school."
A separate experiment, using real admissions decisions made involving more than 30,000 applicants at four selective MBA programs, seems to confirm that finding. From the schools, the researchers gathered information on each applicant's undergraduate GPA and alma mater, GMAT scores, years of work experience, age, gender, race, and citizenship. They also gathered information on the colleges and universities they graduated from, including average GPA and quality measures such as rankings by U.S. News & World Report.
The researchers found that the average GPA of the undergraduate institution, in and of itself, "has a distinct and positive impact on candidate outcomes."
Don Moore, an associate professor at Haas and one of the paper's co-authors, in an interview with Inside HigherEd, acknowledged the troubling implications of the findings, which calls into question the logic of fighting the academic plague of grade inflation. "The disquieting strategic implication of this finding," he said, "is that if a school wants to get its alumni into graduate school, it should grade more leniently."
Join the discussion on the Bloomberg Businessweek Business School Forum, visit us on Facebook, and follow @BWbschools on Twitter.