business
Chrysler Turned a Potential Recall Wreck Into a Dent
By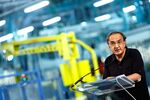 This morning's earnings report from Chrysler could have been titled: "Why It's Tough to Be a Car Executive."
The company's brass did a lot of stuff right, as they have for years now: some 660,000 vehicles shipped in the quarter—5 percent more than a year earlier—with a 7 percent increase in revenue and a 16 percent jump in profits, which topped $500 million in the three-month period. But Chrysler's strong performance in the present collided with some questionable designs from two decades ago. A recall of 1.56 million Jeeps cost the automaker, majority owned by Fiat, $151 million in the recent quarter.
No wonder Chrysler initially refused the U.S. government's demand for the recall. The damage would have been greater but for some smooth Italian diplomacy. In mid-June, Sergio Marchionne, chief executive officer of both Fiat and Chrysler, called David Strickland, administrator of the National Highway Traffic Safety Administration, and convinced him to cut the number of recalled vehicles by 42 percent. NHTA said the suspect Jeeps—made from 1993 to 1998 and from 2002 to 2007—were involved in deadly fires after being hit from the rear.
Much was made of the bad publicity Chrysler risked by rebuffing the U.S. government's safety inquiry. Jeep sales in the quarter, meanwhile, rose by a respectable 3 percent. But it takes a lot of crummy headlines to cost a company $151 million, particularly when the dispute is over cars that are at least six years old. Prorating the recall costs, one can argue that Marchionne's little chat with Strickland saved his company $109 million. Prego!
Before it's here, it's on the Bloomberg Terminal.
LEARN MORE