Where to Find the World's 'Cleanest' Internet Porn
Paul M. Barrett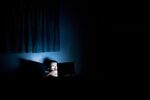 The all-porn Internet domain ".xxx" has some new bragging rights: When it comes to malware, spam, and other digital abuses, its raunchy sites are relatively clean.
Architelos, an Internet consulting firm in Leesburg, Va., reports (PDF) that .xxx—a specialized alternative to .com and .org suffixes—outranks the more familiar domains in terms of protecting users from malware-wielding scammers. While .xxx qualified for an "excellent" ranking alongside such obscure domains as .tel and .no, the giant .com domain (where, incidentally, most porn sites still reside) turned up on Architelos's "exercise caution" list, as did .org and .biz. The consulting firm's analysis incorporates data from Internet Identity, SURBL, Spamhaus, MalwareURL, SpyEye Tracker, and other sources.
So entirely apart from moral and public-health debates about the effects of Internet porn, rest assured that indulgence in explicit "adult" content need not make users vulnerable to getting their credit card numbers swiped. That's good news for ICM Registry, the Florida-based startup that runs .xxx, which has spent the past few years luring thousands of porn purveyors to sell their services on its domain. Stuart Lawley, the British-born entrepreneur behind ICM, has sold it as providing a secure, age-verified red-light district for the Internet. By the end of August, Lawley says, ICM expects regulatory approval for additional domains, including .sex, .porn, and .adult.
In a Bloomberg Businessweek cover article, I explained the ICM value proposition:
"Assume you want to charge customers for videos and live webcam conversation featuring male-to-female transvestites. You could come up with a catchy name and buy an address ending in .com from GoDaddy or another website retailer. If you did, VeriSign (VRSN), a separate company based in Reston, Va., that operates the digital infrastructure for .com sites, would get a cut of your fee. In online argot, VeriSign is a 'registry.' Lawley's ICM is also a registry, and its .xxx sites are available via GoDaddy, too. As for the transvestite porn site, it's called shemales.xxx, and it's already been taken."
ICM's emergence has sparked controversy within the multibillion-dollar digital pornography industry, where various incumbents don't appreciate the competition or Lawley's implication that he can provide titillation without the fraud risks historically associated with Internet smut. One of ICM's main rivals is the much larger Manwin, and the two companies have tangled in court. (Although, for the moment they've called an end to the skirmishing.)
Unabashed in his contention that he's developing the next generation of carnal entertainment, Lawley says he's aiming to "soft launch" a micropayment system before the end of the year. The age-restricted software would allow consumers to click on porn offerings for as little as 15¢ a pop. That, says Lawley, would provide an alternative to $19.99-a-month site memberships and the profusion of free "tube sites" that have put a big dent in online porn profits. Where there's demand in the marketplace, innovation never rests.
Before it's here, it's on the Bloomberg Terminal.
LEARN MORE