business
The Bank of England's Surprising News: Small Business Lending Is Up
By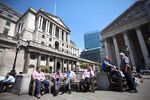 News on lending in Britain today was mostly bad, with a drop in mortgage approvals and lending to businesses. The unexpected bright spot: While overall business lending declined, loans to small and midsize companies actually grew at the fastest monthly pace since 2011.
Britain has been trying to get its banks to lend to small businesses for years. June's increase was only the third month of growth in net loans to small and midsize businesses since the Bank of England began measuring it two years ago, according to the central bank's data (Excel document). Lending to small businesses increased £136 million ($209.4 million), while larger businesses saw credit decline by more than £2 billion.
It's only one month of data, and the overall trend still isn't promising for growth in the U.K. But perhaps it's an early sign that lending to small businesses will pick up in the second half of the year, as the Bank of England's Paul Fisher predicted in June.
Before it's here, it's on the Bloomberg Terminal.
LEARN MORE