Selling Las Vegas: How Macau Gamblers Are Lured to Sin City
By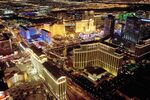 In the gambling industry, everyone is watching Macau, the spit of land south of Hong Kong that is rapidly supplanting Las Vegas as the world's gaming capital. But don't count Vegas out just yet—some of the world's high rollers in Macau appear to be curious about that famous Strip in the desert.
Wynn Resorts, Las Vegas Sands, and MGM Resorts International have been expanding rapidly in the Chinese enclave, lured by the enormous opportunities of a large and growing middle class, plus wealthy gamblers. As the Macau business grows, American gambling companies have been using their Las Vegas operations as a chance to entice their Asian clientele to a different upscale experience—one where the tax hit is far softer than Macau's 39 percent.
"The larger the base of people you attract in Macau, the greater the opportunity you have to sell them on other properties," says Christopher Jones, a gaming analyst with Telsey Advisory Group. The rise of Asian travelers in Vegas has also been seen in the changing mix of gaming revenue: Table games, like baccarat, which are preferred by Asians (and James Bond) are growing far more robustly than slot machines, which are loved by Americans. In Macau, baccarat accounts for roughly two-thirds of the gaming industry's $38 billion in revenue.
Wynn's founder and chief executive, Steve Wynn, discussed the trend today, unbidden, on a conference call with analysts. "Our brand, because of the market segment we cater to, tends to benefit from the international market. In these emerging markets a lot of people are enjoying success outside of the United States, and they make their way to Las Vegas. We're one of the first choices for that kind of visitation," he said. "And we cater to that business aggressively."
Wynn Resorts reported a 16 percent jump in its Las Vegas revenue, spurred by a 5.6 percent increase in its average daily room rate (it's now $268) and higher revenue from food and beverages. Wynn, which has renovated the bulk of its Las Vegas hotel rooms in the past year, has been loathe to discount, seeking "a certain caliber of customer," Jones says. Las Vegas Sands said last week that, while its average room rate was flat, its revenue per room had risen to $189 in the first half of this year, from $177 in 2012.
The lure of Las Vegas is also apparent when it comes to upscale shopping, with prices lower than in China, and the city's proximity to Los Angeles, Jones says.
Wynn and Las Vegas Sands reap another benefit when they're able to funnel customers from Asia to Nevada: more rooms to offer the high rollers. As rapidly as Macau is growing, hotel availability remains a fraction of what it is in Las Vegas. That, in turn, can crimp a casino resort's ability to sell its hotel rooms and offer upgrades, which is critical to the entire enterprise. "It's very, very difficult for us to sell rooms for straight cash here, because we have such a large component of high rollers and bigger players that justify complimentary services," Wynn said. He was in Macau to sign construction contracts for a $4 billion casino resort scheduled to open in early 2016 on Macau's Cotai Strip. "We have only 1,000 rooms here, and they're used all the time, all the time."
In Las Vegas, however, Wynn and Sheldon Adelson's Sands both have many, many more rooms to work with—nearly 5,000 just for Wynn alone. Thus, to an Asian high roller, it's far easier for Wynn and rivals to say: "Come and see what's on offer in America."
Before it's here, it's on the Bloomberg Terminal.
LEARN MORE