Saks Gets a Retail Parent With Problems of Its Own
by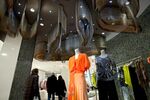 For a struggling Saks, selling to Hudson's Bay (HBC:CN) for $2.4 billion must feel like getting wrapped in a warm, striped blanket. But it's about to get a parent that has its own problems, too. For years—343 to be exact—the Canadian store largely coasted off the relative lack of retail competition north of the border. Only recently, as rivals such as Target and Nordstrom move into Canada, has Hudson's Bay invested in upgrading its stores and brand.
Just as that effort started to really boost sales—although HBC still lost money last quarter amid a dip at Lord & Taylor—the company is taking on the challenge of fixing Saks. So what awaits its new family member? A foray into Canada, no doubt, for Saks Fifth Avenue and its discount Off 5th outlets. But first there's fat to be trimmed. In announcing the deal on Monday, Saks's new parent predicted it could squeeze out $97 million in costs over the next three years. That's one way to get to retail health.
Cost-cutting is certainly something that's been used at HBC. Founded in 1670, when Britain's King Charles II gave investors a trading monopoly that spanned more than 3 million square miles, Hudson's Bay is North America's oldest operating retailer. But it has changed hands over that time, most recently coming under the control of Chief Executive Officer Richard Baker, a real estate investor. He bought Hudson's Bay just weeks before the financial crisis hit in 2008 and proceeded to merge it with another recent purchase, Lord & Taylor, while cutting 1,000 workers in Canada. Last fall the company made additional cuts while moving IT jobs south of the border to St. Louis.
The bigger challenge for Saks may turn out to be sibling rivalry. Hudson's Bay, under President Bonnie Brooks, has brought in brands like Coach, Burberry, Kleinfeld, 7 For All Mankind, and Opening Ceremony. It changed its name from The Bay back to Hudson's Bay in a bid to refresh its image while laying claim to its "frontier" past. While that doesn't put Hudson's Bay in the same luxury league as Saks Fifth Avenue, it does make the two companies more direct rivals. What's more, it reduces the likelihood that Saks will get dibs on the prime real estate the Canadian chain now occupies.
But better sales in Canada haven't eliminated headaches for HBC. Its November initial public offering raised a disappointing $365 million; the stock, initially expected to open at as high as $21.50 per share, was repriced at $17. Improvements aside, analysts worry that the chain will falter as U.S. competitors enter the market. It's not as cheap as Target, nor does it have the customer-service credentials of Nordstrom.
One solution, HBC must hope, is Saks and the merger that will create a combined company with about 320 stores. That gives greater reach, but in the world of retail scale, that can be a liability as well as an asset. With more brands in the family, Baker may be able to move them into each other's real estate to boost profitability, and he may find Saks is a potent weapon in battling Nordstrom in Canada. But he's taking on a new addition at a time when many think his hands are already full.
Before it's here, it's on the Bloomberg Terminal.
LEARN MORE