Omnicom-Publicis: Still Too Many People, Not Enough Robots
by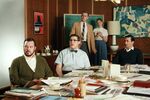 Madison Avenue looks a little more foreboding after the announcement of a $35.1 billion merger of Omnicom, a U.S. ad giant, and Publicis Groupe, its French rival.
The massive deal, we are told, isn't about synergies or economies of scale or any of the other buzzwords M&A bankers like to throw around. It's about data—building a giant engine for more efficiently churning clicks and links and "likes" into an automated ad machine like Google.
"All of these tech players didn't exist, didn't compete, even on the fringes of our business, even five years ago," Omnicom Chief Executive Officer John Wren told the Wall Street Journal. In that way, the merger looks like two behemoths' best defense against Silicon Valley interlopers.
But from a bottom-line perspective, both companies are a far cry from Google—individually or together. They simply have too much creative—too many Don Drapers. Brainstorming, creating, and producing a new ad campaign for McDonald's is lucrative, and labor-intensive. Meanwhile, if McDonald's wants to drive returns via a search engine, it only takes a few minutes of algorithm tweaking.
In strict economic terms, Google is far more productive. In the past five years, Google made, on average, $1.1 million of annual revenue per employee, and $277,000 in per-worker profit. The combined results of Omnicom and Publicis, meanwhile, show just $175,000 in annual revenue for every worker and just $14,000 in income per employee.
Meanwhile, the ad executives promise to drive returns without layoffs. "We're not a manufacturing company," Wren explained. That, unfortunately, is part of the problem.
Before it's here, it's on the Bloomberg Terminal.
LEARN MORE