Michigan's Republican AG Sides With Detroit's Pensioners
By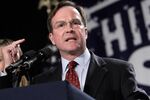 In yet another wrinkle in the tumultuous start to Detroit's bankruptcy, Michigan Attorney General Bill Schuette this weekend threw his support with the city's pensioners who fear their benefits will be cut. Schuette, a Republican, issued a statement saying he believes any efforts to reduce Detroit's pension payments would violate the state constitution. That position is at odds with the state's GOP governor, Rick Snyder, who's supported efforts by city emergency manager Kevyn Orr to consider pensions as unsecured debts that could be trimmed in bankruptcy.
So far, Schuette has been representing Snyder's positions in various court matters, including a successful effort earlier this month to prevent pensioners from using the courts to prevent the bankruptcy filing. It's worth noting that the pensioners were arguing the exact position Schuette is now taking—that reducing pensions would be a breach of the state constitution.
It's not clear yet how Schuette's shift in support will work in practice, as Bloomberg News reports:
"The attorney general's office 'will still be representing us in the other pieces, while trying to get clarity on this,' said Sara Wurfel, Snyder's spokeswoman. 'We appreciate the efforts to get clarity and help determine the best path moving forward that is fair to all,' she said in a phone interview. There isn't a 'specific plan' yet on the pensions in the bankruptcy, she said."
The Detroit Free Press says the AG's office has supported various sides of a single issue in the past. "For one, the office regularly represents Michigan's utility consumers while representing state regulators who set utility rates that consumers pay," it explains, adding that different teams of lawyers in the office work on each side.
All this commotion, and Detroit's just about a week into what Snyder expects to be a 15-month bankruptcy process.
Before it's here, it's on the Bloomberg Terminal.
LEARN MORE