business
MBA Applicants Target B-Schools in the Strongest Economies
By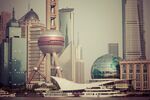 A guest post from Matt Symonds, chief editor of MBA50.com, a website dedicated to the world's outstanding business schools. He is also director of Fortuna Admissions and co-author of ABC of Getting the MBA Admissions Edge.
Although brand-name business schools have long dominated the ambitions of aspiring MBAs, a target region or country has always been a factor for some potential students. And while many factors will influence that selection, it seems that one is coming to dominate candidate thinking: jobs.
Fifty-one percent of MBA applicants now make their choice of business school based on where they would like to work after graduating, up significantly from 41 percent in 2011. That according to the latest MBA applicant report from Quacquarelli Symonds, which publishes a global business school ranking. (Full disclosure: I co-founded the company, but am no longer affiliated with it.)
The reason for this is obvious. Although MBA employment has held up reasonably well, certainly in comparison with the early 2000s, it is still not back to the levels seen before the collapse of Lehman Brothers. Consequently, while the appetite for business school education is still there, those willing to invest the necessary time, effort, and money are looking hard at what return on investment they will experience, not just in the long term, but as soon as they graduate.
Outside of the "usual suspect" locations such as the U.S. and U.K., a school's location can have welcome, if unexpected, benefits. Despite being a relative latecomer to the MBA club, Germany is proving increasingly popular among candidates from both the developed and emerging worlds, thanks to its robust economy. And Switzerland's boast of having the world's highest per capita wealth has allowed schools such as St. Gallen near Zurich to grow their MBA classes at a time when many others across Europe have been static or even shrinking.
The trend has also helped push more candidates toward those areas of the world that have ridden out the widespread economic downturn and, in particular, to China. The MBA program at CEIBS in Shanghai, for example, now has more than 190 students from 21 countries, and the BiMBA program at Peking University is also experiencing rising applications beyond the Chinese market.
A separate, but related, trend is the "boomerang" effect reported by many Western schools over the past few years—the growing number of students from emerging countries studying in the U.S. or Europe who return to their home countries after graduation.
For Derek Walker, director of careers at the University of Oxford's Saïd Business School, the attraction is obvious: "Why wouldn't they choose to use their MBA in an economy that is growing so much faster than many in the West?" To encourage such mobility, the school ensures that the course content is global and can take students anywhere in the world. And like other leading business schools, Saïd organizes student treks to countries like Brazil, China, and South Africa to help build a career network and make introductions to local recruiters.
The number of international students choosing to work in the developing world in the next few years could indicate just how fast and how far economic potential has moved from its traditional centers since 2008. The challenge for business schools, however big their brand names, will be to take them there.
Join the discussion on the Bloomberg Businessweek Business School Forum, visit us on Facebook, and follow @BWbschools on Twitter.
Before it's here, it's on the Bloomberg Terminal.
LEARN MORE