Harvard Meets Kerouac: MBAs Hit the Road to Help Entrepreneurs in Need
Elizabeth Rowe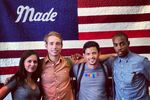 This time of year most MBAs are working feverishly at hard-won internships, hoping to secure a job offer at summer's end. Four Harvard MBA students have forsaken the cubicle culture for the open road and an eight-week trip across the country to advise local entrepreneurs on their businesses—for free. Hicham Alaoui, Mike Baker, Casey Gerald, and Amaris Singer began their summer as MBAs Across America in Detroit and are currently in Las Vegas.
The group is traveling in two cars—which they've nicknamed "R" and "V" because they couldn't raise enough money to get a real RV—that collectively have 20 years on them. Before it's over they will have travelled 8,000 miles, making stops in Albuquerque, New Orleans, Asheville, N.C, and Washington, D.C., among other locales.
In Montana, the team helped Sarah Calhoun organize a music festival that will raise cash for her company's foundation, which supports women in leadership roles, rural communities, and family farms. In Detroit, they helped a salon that donates hair to fertilize trees to expand its business and restore the city's urban canopy. "You hear Harvard Business School, and you get excited," the salon's founder, Sebastian Jackson, told the Detroit Free Press. "I thought it would be more about them, but it wasn't. They were here to help."
The four wanted to understand more fully the challenges faced by entrepreneurs. When meeting with business owners, they try to leave them with something they can use, whether it's operational improvements, a refined business model, or just four more friends they can call for advice. "MBAs can be a force for greed, but we can also be a force for progress and sustainable growth," Gerald says. "We felt a responsibility to use our resources for a nobler purpose than they have been in the past."
The group has three main goals: to engage with entrepreneurs and business owners on a personal level; to leave the businesses better than they found them; and to examine larger questions about the communities they visit. In Detroit, for example, MBAs Across America focused on learning about urban renewal.
The group hopes to expand their project to more business schools in the future. They hope MBAs Across America will be seen as a legitimate option for MBA students, who have traditionally been encouraged to apply for internships. "It's easy in business school to get pulled into what everyone else is doing," Baker says. Business school should be a time of self-discovery, he says, and he hopes MBAs Across America provides a unique opportunity for that.
MBAs Across America is supported by crowd-funding—they raised $13,000 from more than 100 donors—and rewards donors with gifts that range from postcards from the road to workshops with a nonprofit of the donor's choice. Starwood Hotels' Four Points brand, which is run by a Harvard Business School alumnus, has donated hotel rooms for the four to stay in along the way.
Says Singer: "It's a little weird to do something that no one else in a class of 900 is doing." She laughed, "You're either onto something great, or you're insane. But now that we're on the road, we feel like it's the right thing to do."
Join the discussion on the Bloomberg Businessweek Business School Forum, visit us on Facebook, and follow @BWbschools on Twitter.
Before it's here, it's on the Bloomberg Terminal.
LEARN MORE