Back-to-School Retailers Shift to Dorm-Room Market
by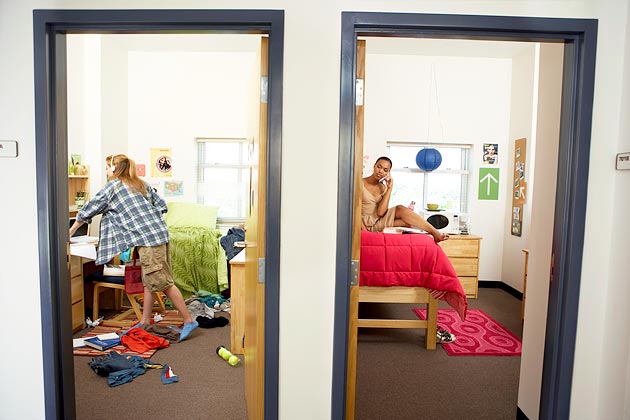 When it comes to back-to-school shopping, major retailers are growing up. Sure, they are still rolling out big deals touted through massive August advertising campaigns, but this year there's a new emphasis on college-bound kids instead of their younger siblings. Why focus on crayons when you can be selling comforters and couches?
Target, for example, created a YouTube platform dubbed Bullseye University with live-streamed footage of college-aged kids hanging out in makeshift dorm rooms stocked with the company's furnishings. The budding reality stars brag about being "accepted" by Target—total safety school, right?—while viewers are free to click on the video to shop for featured products. Pottery Barn, a unit of Williams-Sonoma, just launched a standalone catalogue and a new Web platform for its PB Dorm, a line of college gear the retailer added in 2010 to complement its teen offerings. Wal-Mart. meanwhile, is stocking dorm-appropriate products that correspond to school colors at some 200 college-town locations.
Why the shift? For one thing, parents are increasingly frugal. The average back-to-school shopper is expected to spend 8 percent less on school items this season, roughly $635 each, according to a recent study by the National Retail Federation. Not surprisingly, the back-to-school shopping season has become a sort of arms race, with big-box stores lobbing out increasingly attractive sales in a bid to corner the market. That's a fine strategy, but volume doesn't mean much if margins have been squeezed to almost nothing.
The heavy discounts make more sense on Black Friday, when money-losing "doorbusters" subsidize more lucrative holiday shopping. Parents in August, however, just want to get the goods and go back to the beach. Almost half of consumers in a recent survey by Bloomberg Industries said they will buy back-to-school gear only once stores advertise deals, and 40 percent said they try to get all their stuff in one big trip.
The dynamic isn't much different with older kids, but Credit Suisse analyst Michael Exstein points out that retailers aiming to win over college students have "an opportunity to begin a relationship that could last a lifetime." The only drawback: The market is shrinking. College enrollment now stands at 18.8 million, down 2 percent from last year.
Before it's here, it's on the Bloomberg Terminal.
LEARN MORE