Vivendi Parts With Activision and Gets Out of Hit-or-Miss Game
by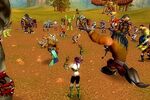 No more fun and games for Vivendi. The French television and telecom giant this morning said it will sell (PDF) most of its 61 percent stake in Activision Blizzard back to the video game company and a cadre of investors led by its executives.
Sure, a gaming empire is an entertaining asset. But it's also an archetypal "hit-driven" business, which isn't necessarily a great way to consistently service the pile of debt weighing on Vivendi—roughly $15.5 billion at the end of March. If the latest iterations of Call of Duty or World of Warcraft miss the mark, Activision could quickly find itself scrambling for extra financial lives. And Activision doesn't just churn out small-scale, bobble-head hits: It's the Mercedes-Benz of the video game world, investing heavily to engineer deep, high-quality products and "proven intellectual properties."
That said, the video game maker has enjoyed a stellar track record since its 2008 merger with Vivendi. It has increased annual revenue by 60 percent over that span and swung from a $107 million loss to $1.1 billion in profit last year, thanks in part to Blizzard Entertainment, which Vivendi brought to the table in the merger.
In the deal announced this morning, Activision will buy 429 million of its shares back from Vivendi for $5.83 billion, or $13.60 each—a 10 percent discount to recent trading levels. Additionally, Chief Executive Officer Robert Kotick and co-Chairman Brian Kelly are leading a group to buy another 172 million shares for $2.34 billion, roughly a one-quarter of the company. Vivendi will keep a 12 percent stake.
Vivendi had been trying unsuccessfully to sell its Activision stake for some time. Wedbush Securities analyst Michael Pachter says major U.S. media companies have been unlikely buyers because they have a spotty track record with video games, and Activision dwarfs almost all other game makers. The deal allows Vivendi to focus on its core businesses: SFR, a French wireless company; Canal+ Group, a paid television property; and U.S.-based Universal Music Group. Those three properties accounted for almost three-quarters of Vivendi revenue last year.
Pachter, meanwhile, is bullish on Activision. "The company communicates clearly, executes well, and its management appears to truly understand how to make money," he wrote in a recent report. Investors seemed to agree on Friday, sending the video game company's shares up almost 16 percent in morning trading.
Before it's here, it's on the Bloomberg Terminal.
LEARN MORE