The Death of GE's Company Man
By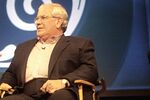 In 1994, as General Electric was reeling from a trading scandal at its Kidder Peabody unit, Jack Welch asked CFO Dennis Dammerman to handle the mess. Dammerman took charge of the battered brokerage and helped sell it in a deal that ultimately minimized the financial pain of a bad buy. Four years later, Welch asked him to run GE Capital, the giant company's most profitable unit. Under his watch, the business more than doubled its assets to $567 billion and became an even more powerful contributor to earnings—both helping and haunting GE, as investors worried about relying too heavily on finance. Still, as one analyst told Bloomberg in 1998: "If Dammerman's not going to be CEO of GE, you want him to have what's arguably the next most important job there."
Dammerman, who died on July 23 at the age of 67, remained a powerful partner to both Welch and successor Jeff Immelt before ultimately retiring in 2005. Although best known as a sharp finance mind who rose to CFO in 1984, Dammerman was also a fierce company man. His loyalty to GE and to its leaders was unwavering. He was more media-shy than many of his colleagues, but he often stepped in to make sure reporters got their facts right. Dammerman also helped deliver consistent quarterly numbers while championing long-term investments in GE's products, culture, and people. Whether transforming the Audit Staff program that accelerated his career or pushing to diversify the top ranks, he was always looking to nurture new talent.
One such talent was a confident young Harvard MBA grad named Jeff Immelt who walked into his office for a job interview in 1982. He immediately sent Immelt's résumé on to managers, fearing it might get misplaced. As Dammerman later told author David Magee: "He was the best guy I saw that day." Immelt, meanwhile, praised Dammerman as a great mentor on GE's website, noting "there were many times when I faced tough decisions that I knew that Dennis would have the right answer."
But Dammerman's strongest bond was with Jack Welch, the man who made him GE's youngest-ever CFO at the age of 38. The two met in 1977, a decade after Dammerman joined the company. The electrician's son from Grand Mound, Iowa, hit it off with the rising star whose dad had worked for the railroad in Boston. Welch was impressed with Dammerman's understanding of not just the numbers but which parts of the business were likely to drive profit, according to a 1995 article in Fortune. Dammerman soon became known as Jack's right-hand man. "He was a great partner and a critical part of GE's success in the '80s and '90s," Welch recalls now. "He was smart, rigorous, and courageous with unyielding integrity. I loved and respected him."
It's a sentiment echoed inside and outside the company. Former HR chief Bill Conaty, who joined the same year as Dammerman in 1967, considered him both "a good friend and an absolute rock as the CFO of GE under both Jack and Jeff. He had tremendous credibility with the analysts since he never sugarcoated anything, and they knew when Dennis spoke they could count it
as factual."
One testament to that fact: When American International Group collapsed during the financial crisis, and was taken over by the U.S. government, Timothy Geithner recruited Dammerman to the AIG board where he then led the search for a new CEO. What the then-retired GE vice chairman represented, at a time when even the GE Capital business looked vulnerable, was integrity. Like a true company man, he didn't just know how to be a leader. He knew how to spot and nurture leadership in others.