Targeting SAC: When Prosecutors Charge Companies With Crimes
Paul M. Barrett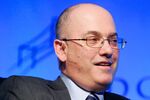 The Department of Justice's insider-trading indictment of SAC Capital Advisors amounts to the imposition of a corporate death penalty. While the hedge fund firm's founder and owner, billionaire Steven Cohen, may escape personal criminal prosecution, it's inconceivable that his institutional investors will stand by SAC given the taint of these serious charges.
Is that fair? To root out alleged wrongdoing, should the government destroy a company that employs 1,000 people, most of whom have never been accused of misconduct? And what about the lesson of Arthur Andersen, the once-august auditing firm indicted in 2002 in the wake of the Enron scandal? Andersen collapsed as a result, taking 28,000 jobs down with it.
Justice Department guidelines (PDF) address the issue of when it's appropriate to indict a corporation, as opposed to the individuals who run it or work there. The guidelines warn prosecutors to consider "collateral consequences," including the harm to innocent employees. On the other hand, the standards also note: "A corporation, like a natural person, is expected to learn from its mistakes. A history of similar misconduct may be probative of a corporate culture that encouraged, or at least condoned, such misdeeds, regardless of any compliance programs."
Corporate culture was key to the Andersen case, and the Justice Department alleges that it's central again in the SAC prosecution.
Some government officials came to regret the Andersen indictment because it put so many people out of work and reduced competition in an already-concentrated accounting industry. It was Andersen's leadership, however, that brought disaster upon itself and its employees. The auditing giant was a recidivist that had been implicated as an enabler of earlier corporate-accounting fiascos, including that of Waste Management (WM). Andersen had vowed before to clean up its act, and the Enron disaster demonstrated that it failed to do so. Dire consequences followed.
In the SAC case, the Justice Department contends that even without having caught Cohen red-handed, the evidence points to a firm so shot through with criminal behavior that it is irredeemable. From the indictment:
"SAC's insider trading was "made possible by institutional practices that encouraged the widespread solicitation and use of illegal inside information. Unlawful conduct by individual employees and an institutional indifference to that unlawful conduct resulted in insider trading that was substantial, pervasive and on a scale without known precedent in the hedge fund industry."
The grand jury noted separate insider-trading schemes by six former SAC portfolio managers who have pleaded guilty and two others who have been charged. Referring to him as "SAC's owner," the indictment alleges Cohen "fostered a culture that focused on not discussing inside information too openly, rather than not seeking or trading on such information in the first place." For example, Cohen hired Richard Lee despite receiving a warning in 2008, according to the indictment, that Lee had a reputation for insider trading at another hedge fund. Lee, who managed a $1.25 billion portfolio at SAC, recently pleaded guilty to conspiracy and securities fraud.
Under "deferred prosecution agreements," many companies have been given the opportunity to admit wrongdoing, pay a substantial penalty, and get on with business. That's what happened in 2005 to KPMG, one of the surviving Big Four accounting firms, after a group of its former partners were implicated in a tax-shelter investigation.
Other companies have bounced back from felony convictions. BP, for instance, pleaded guilty to criminal violations last year stemming from the 2010 Gulf of Mexico oil spill and committed to paying $4 billion in fines. The oil giant apologized and has also paid out more than $25 billion so far in cleanup costs and damage claims.
SAC and Cohen have denied wrongdoing. That's their right, of course. But the hedge fund firm's culture of defiance will likely prove its undoing, regardless of whether a jury ever finds SAC guilty beyond a reasonable doubt.
Before it's here, it's on the Bloomberg Terminal.
LEARN MORE