Starbucks Takes Over Your Life, Boosts Sales
by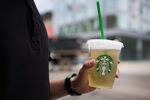 Starbucks, already ubiquitous, is getting even more so. People are drinking and eating more Starbucks goods now—everywhere, all the time—which has contributed to the 13 percent year-over-year revenue increase the company reported yesterday. This is how it's getting people to buy more in the U.S., which still represents about three-fourths of the company's revenue:
At lunch. Starbucks's food menu contributed two points to a 9 percent increase in same-store sales in the U.S. last quarter, said CFO Troy Alstead. Food is about 19 percent of sales in the U.S., and one in every three transactions includes something to munch on. New sandwiches and salad bowls launched in April, and that helped with lunch sales. The next step is expanding its high-end baked goods (it acquired La Boulange last year) from stores in Northern California and the Pacific Northwest to Los Angeles and big East Coast and Midwest markets, including New York, Chicago, and Boston.
In the afternoon. Starbucks does most of its business in the morning. To woo customers later in the day, it added Refreshers and more recently started testing handcrafted sodas. So far, so good, said Cliff Burrows, group president of Americas, EMEA, and Teavana: "We're seeing increased comps on all day parts … Refreshers really does complement that afternoon day-part." The chain's summer launches, including the new Valencia Orange Refresher and Caramel Ribbon Crunch Frappuccino, are "exceeding even our most optimistic expectations," Chief Executive Officer Howard Schultz said.
In your kitchen. Single-serve coffee remains a smaller business for Starbucks, but it's worth noting that sales of Starbucks- and Tazo-branded K-Cups were up 51 percent last quarter. In fact, the company recently sold its one billionth K-Cup. Starbucks is keeping a close eye on the $8 billion premium single-serve coffee market. Schultz noted that the segment "has grown nine times faster than the overall coffee category during the past year and now accounts for nearly 30 percent of total coffee sales in grocery."
Before it's here, it's on the Bloomberg Terminal.
LEARN MORE