Starbucks Adds Phone-Charging Stations. What's Next, Showers?
by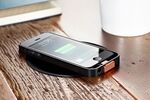 Ever notice how you can always use the bathroom at a Starbucks? Or hop on the free Wi-Fi, no questions asked? In its continuing quest to provide more than coffee, some of the chain's stores will now also charge your phone.
Last fall, 17 Starbucks shops in Boston placed Duracell Powermats on tables so customers could come in, plop their phones onto the mat—no wires required—and grab a drink while they waited for their devices to charge. Yesterday the company announced it is now adding Powermats to 10 or so stores in Silicon Valley. Other locations will be listed on Poweruphere.com as they come onboard, including those in other cities, eventually.
The mats only work with compatible devices, or devices outfitted with a compatible accessory. There will be about a dozen in each store, depending on size.
"This is the kind of improvement to the digital experience that our customers expect from Starbucks and the kind that we will deliver at scale moving forward," said Starbucks Chief Digital Officer Adam Brotman during Thursday's earnings call. Spokeswoman Linda Mills says using the mats is more energy-efficient than encouraging everyone to plug their phones into outlets.
Starbucks is adding the devices as part of the terms of its partnership with Duracell Powermat, says Powermat Technologies President Daniel Schreiber, though he would not discuss the terms of the agreement. For the battery company, the agreement gets its product out into the wild, and encourages folks to buy the necessary accessories for easy, on-the-go charging. For Starbucks, it's one more way to persuade customers to come in, sit down, and have a little something to drink.
Before it's here, it's on the Bloomberg Terminal.
LEARN MORE