SAC's Lawyer Army Shows Up to Face Charges in Federal Court
By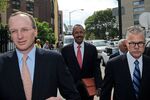 The larger federal courtrooms in the courthouse on Pearl Street in downtown Manhattan are equipped with extra-long tables, and today, lawyers representing SAC Capital Advisors filled one of them up to overflowing.
No fewer than six attorneys appeared before District Judge Laura Taylor Swain in a courtroom in lower Manhattan to answer an indictment unsealed yesterday by the U.S. government charging SAC with criminal responsibility for insider trading committed by a group of traders and portfolio managers. In response to four charges of securities fraud and one count of wire fraud, SAC's bespectacled General Counsel Peter Nussbaum pleaded not guilty on behalf of the firm.
"SAC has never encouraged, promoted, or tolerated insider trading and takes its compliance and management obligations seriously," said SAC spokesman Jonathan Gasthalter separately. "The handful of men who admit they broke the law does not reflect the honesty, integrity, and character of the thousands of men and women who have worked at SAC over the past 21 years. SAC will continue to operate as we work through these matters."
Nussbaum was surrounded by a small army of high-priced attorneys: On his right was Martin Klotz, a partner with Willkie Farr & Gallagher (disclosure: also Bloomberg L.P.'s law firm), and Cohen's tireless longtime lawyer. To Nussbaum's left was Theodore "Ted" Wells Jr., a semi-celebrity criminal defense attorney and partner with Paul, Weiss, Rifkind, Wharton & Garrison, who seemed to suck up most of the breathable air at the table. To his left, Daniel Kramer, also of Paul, Weiss; Michael Schachter, of Willkie; and finally, rounding out the Paul, Weiss contingent, litigation partner Michael Gertzman.
All told, they could be costing SAC, and therefore Cohen, $10,000 an hour.
During the conference, Assistant U.S. Attorney Antonia Apps said that the government planned to produce the bulk of its evidence in the next 30 days, describing the coming trove as "voluminous." She said it includes electronic recordings, electronic messages, instant messages, wiretaps, and consensual recordings.
After the hearing ended, the defense counsel huddled in the cool marble lobby of the federal courthouse and then split up by firm, with Klotz and Schachter veering off toward one exit and Wells, Kramer, and Gertzman striding toward the other. They drifted in the direction of the door, all in a row with a couple of aides hovering, their fine chalk-stripe jacket vents flapping almost in slow motion. Then they burst out into the blazing sun, where they were promptly surrounded by a pack of photographers and television camera crews.
Disoriented, they lurched across Worth Street, searching for their car, which was nowhere to be seen. The photographers and a few television anchors teetering on stilettos swirled around them while the attorneys tried to avoid their gazes, jabbing into their BlackBerrys and pacing anxiously. Finally, after Wells and Kramer had seemed to give up and started walking briskly toward Lafayette Street, the car—a black sedan, No. 388—materialized. They climbed in.
It will likely not be the last awkward moment Cohen's lawyers have as part of their new paparazzi-worthy notoriety.
Before it's here, it's on the Bloomberg Terminal.
LEARN MORE