Older Diners Flock to the Cheesecake Factory to 'Eat Lighter'
By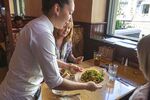 The Cheesecake Factory's lower-calorie SkinnyLicious menu, introduced in 2011 to offset the chain's extensive selection of big-portioned dishes, appears to be a hit—especially among the restaurant's older diners. "Clearly we're appealing to a different customer—baby boomers, people that want to eat lighter or are watching their calories," said Chief Executive Officer David Overton during Wednesday's earnings call. "The SkinnyLicious menu appeals to a broad range of guests," spokeswoman Alethea Rowe echoed in an e-mail. "However, we are noticing that it has become particularly popular with baby boomers."
On July 24 the Cheesecake Factory reported a second-quarter same-store sales increase of 0.9 percent. (That figure is 0.8 percent when including the company's other restaurants, which fell short of analyst's earlier projections of 1.6 percent.) Chief Financial Officer Doug Benn would not offer specifics on SkinnyLicious sales, but according to Overton, the menu is performing well. "Many people, especially baby boomers, that still go out to restaurants quite a bit really appreciate it, because they can't eat the kind of portions they used to," he said.
Baby boomers have been good for the restaurant industry. Researcher NPD Group found that the number of restaurant visits by boomers and older consumers increased over the past five years, while those by millennials declined. This is possibly because boomers are retiring later and have more disposable income than young adults, who have had a tough time in this economy.
These older diners would qualify as "a different guest" for the Cheesecake Factory, which now operates 163 restaurants in the U.S. and three overseas. In June the chain got most of its visits from adults under age 44 and those who earn less than $50,000 a year, according to data from location analytics company Placed.com. Still, the data show that the chain remains popular with high-income patrons, as well. And for those not interested in the healthy menu, there's always the Bistro Shrimp Pasta dish, which comes bearing 3,120 calories.
Before it's here, it's on the Bloomberg Terminal.
LEARN MORE