Obamacare Could Shrink Jobs: Why That Might Be OK
By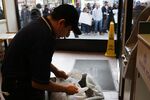 A new academic study concludes that Obamacare could cause about 800,000 low-income Americans to ditch their jobs. The biggest surprise? The authors say that might actually be OK.
The Affordable Care Act "may cause large reductions in the labor supply of low-income adults," because people who took jobs just for the employer-provided health insurance will quit and sign up for Medicaid or subsidized private insurance, write Craig Garthwaite of Northwestern University's Kellogg School of Management, Tal Gross of Columbia University's Mailman School of Public Health, and Matthew J. Notowidigdo of the University of Chicago's Booth School of Business in a National Bureau of Economic Research working paper.
When the paper was released in mid-July it triggered a storm of coverage critical of the Affordable Care Act, with headlines such as "Obamacare: A Pathway From Work to Welfare?"
But in an interview, Garthwaite says it's possibly but not necessarily a bad thing if lots of low-income workers quit their jobs because they no longer need them for health insurance. He said that to describe Obamacare as a "job killer" is "tragically wrong." Here's his logic:
• Jobs are "killed" only when there's a reduction in the demand for workers. In this case, it's a reduction in the supply of workers that's the issue.
• If low-income workers have a new option to leave their jobs and choose to do so, then clearly they themselves are better off than before. (Maybe it's tough for them to work because they're in poor health, or need to be at home to take care of family.)
• Whether society as a whole is worse off when workers drop out "is complicated" and depends in part on the condition of the labor market.
• In today's high unemployment, there are plenty of other people available to fill the jobs vacated because of Obamacare.
• When labor markets get tight again, having people voluntarily leave the workforce could present more of a problem. But that could be solved by a slight rise in wages, which would bring some back into the labor force.
• Some people who are locked into jobs today to get insurance might be able to start their own businesses and actually contribute more to the economy.
Concludes Garthwaite: "We're really taking the shackles off a lot of people in that they can make the choice of employment that's best for them."
Before it's here, it's on the Bloomberg Terminal.
LEARN MORE