NYU's Michael Posner: Bringing Human Rights to B-School
Elizabeth Rowe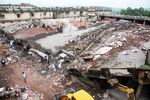 Most B-school students know they're signing up for classes in subjects like accounting and finance, but they probably don't expect to see human rights on the syllabus. Professor Michael Posner wants to change that. Posner came to NYU's Stern School of Business after four years at the Department of State to head the first-ever human-rights center at a business school. The center will first look at the garment industry in Bangladesh, where the catastrophic collapse of a garment factory building killed more than 1,100 people in April, but will eventually expand its focus to include topics as diverse as information technology and security issues in the mining industry. Posner recently chatted with Bloomberg Businessweek's Elizabeth Rowe, and what follows is an edited version of their conversation.
How will the human-rights center be integrated into the curriculum at Stern?
My colleague and I are going to teach a series of courses beginning this fall on the subject of business and human rights. There is also quite a bit of interest in participating in a range of courses where there's two classes to integrate the human-rights material into the [existing] course.
What will be the center's first project?
Well, our notion is that we're going to try to do three things: One is teaching and research, the second is convening a safe and open space for the discussion of challenging issues, and the third is public reporting and advocacy. It's really in that second space that we're now organizing a meeting in September, looking at the issues facing the garment industry in Bangladesh. We see this as a critical moment because of the collapse of the factory several months ago. There's renewed attention to what the supply chain looks like, how workers are protected, and what can be done on a broad level to address these issues. We're going to provide a forum and bring in experts and come up with a set of recommendations.
What are your goals for this project and for Stern?
The short-term goal is to establish the academic curriculum and the research agenda as a top-flight program that has academic integrity, and that puts these issues into the curriculum in a meaningful way. In the long term, there is a desire to encourage copycats. We'd like to be the first but not the only school doing this. We'd like to encourage students to become experts in this field and companies to hire them and integrate this into the way they conduct business. I think students at Stern today are very interested in doing well and doing good.
Join the discussion on the Bloomberg Businessweek Business School Forum, visit us on Facebook, and follow @BWbschools on Twitter.