business
How Hungry Are Investors for Startups in Distress?
By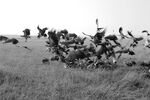 Last week, Andreessen Horowitz co-founder Ben Horowitz wrote in Fortune that in the current climate for raising venture capital, startup founders should swallow their pride and embrace the "down round." That is, founders running out of cash may need to raise more capital at lower valuations than in previous fundraising rounds:
"Hoping that the fundraising climate will change before you die is a bad strategy because a dwindling cash balance will make it even more difficult to raise money than it already is, so even in a steady climate, your prospects will dim. You need to figure out how to stop the bleeding, as it is too late to prevent it from starting. Eating s— is horrible, but is far better than suicide."
Herewith, more musings on investors' appetite for startups in peril from around the Web:
Wired's Ryan Tate found fodder in Horowitz's column, noting in a piece on the "screams of crushed startups" that Silicon Valley is walking into the business end of the Series A crunch. In recent years angel investing has increased, helping more startups launch. The pool of venture capital available to those companies hasn't kept pace. Thus situations like the one described on the blog My Startup Has 30 Days to Live, and thus this nugget from Tate's piece:
"At least one firm, Freestyle Capital, is setting up a bridge program to help early stage startups reach their next investment round, with the bridge investing up to $1 million into sufficiently promising companies so they have more time to find new investors."
That sounds like what Reuters blogger Felix Salmon meant when he took note of a "very, very new market" in "distressed startup opportunities." Salmon was also writing in response to Horowitz's column, though the distressed startup he had in mind was the subject of another article, this one by David Segal in the New York Times. That piece was about an entrepreneur who gave up equity in his company in return for help combating a patent troll.
Maybe Salmon overstates how new the phenomenon is. This week, PandoDaily's Erin Griffith profiled a startup investor named Steve Hogan, whose firm, Tech-Rx, sounds a lot like a private equity turnaround shop:
"This isn't about creating the next Facebook. Once a company reaches him, it has already missed that opportunity. No, the ultimate goal for each situation is to sell the fixed-up companies in two to five years. The fact that this plan includes minting a solid return for his network of angel investors doesn't hurt the cause, either. If successful, he'll achieve at three-times to five-times return in that time frame."
(Disclosure: Bloomberg LP, the parent company of Bloomberg News and Bloomberg Businessweek, is an investor in Andreessen Horowitz.)
Before it's here, it's on the Bloomberg Terminal.
LEARN MORE