Gulf Oil Spill Fallout: Halliburton's Guilty Plea Is Good News for BP
Paul M. Barrett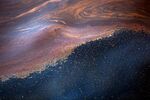 Halliburton's confession that it destroyed critical evidence in the aftermath of the 2010 Gulf of Mexico oil spill could be worth billions of dollars to BP.
Federal officials announced on July 25 that Halliburton will plead guilty to destroying computer-simulation tests it did as the cement contractor on the deepwater BP-owned well that blew out in April 2010, killing 11 rig workers and crippling the coastal economy of Louisiana and neighboring states. At first glance, the misdemeanor plea sounds minor. It comes with a $200,000 fine and three-year sentence of probation that Halliburton can easily handle. The company also agreed to make a "voluntary contribution" of $55 million to the National Fish and Wildlife Foundation.
In pending civil litigation, though, Halliburton's admission could have much larger pecuniary implications. BP first accused Halliburton in 2011 of destroying post-spill test results to cover up the cement contractor's culpability. The companies have sued each other over who bears primary responsibility for the harm caused by the disaster. Moreover, a federal judge in New Orleans is presiding over a multibillion-dollar civil environmental suit in which the U.S. Justice Department is seeking to prove that BP was "grossly negligent" in its management of the well. BP will almost surely now try to use the Halliburton plea as a partial shield against a finding of gross negligence. If that strategy works, it could save the London-based oil giant $10 billion or more. In a separate felony guilty plea last year, BP admitted to criminal wrongdoing and agreed to pay $4 billion in fines.
The computer tests at issue occurred in May and June of 2010 and looked at whether the use of additional devices known as stabilizers would have made the BP well safer. Halliburton recommended using 21 stabilizers; BP ultimately used only six. Halliburton officials concluded from the computer-modeling tests that the extra stabilizers would have made "little difference" to well stability, the Justice Department said.
By shining a spotlight on that finding, BP presumably will be able to strengthen its defense against the government's civil allegations of gross negligence. In a sense, then, the success of the Justice Department's criminal investigation of Halliburton could make it easier for BP to diminish the potential bottom-line impact of the agency's civil enforcement action.
Before it's here, it's on the Bloomberg Terminal.
LEARN MORE