Five Rules for Bringing Sunglasses to the Office
Bill Bradley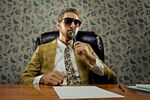 This week, Bloomberg Businessweek features summer's coolest shades. But how do you wear sunglasses to work without looking like this guy? Kristen McCabe, the Sunglass Hut's vice president in charge of product and resident trend spotter, shares how to do it right.
1. Take them off at the entrance. Period.
"When you're inside, you need to take your sunglasses off. Even if you're carrying piles of stuff in both hands, put it all down and take your sunglasses off. If you're inside with your sunglasses on it can be seen as inconsiderate or evasive, like you're hiding something. Are you hung over? Do you not want to look people in the eye? That's the nonverbal cue that comes off if you don't take your shades off."
2. Hide them. Immediately.
"You absolutely should not be putting them on the top of your head—and even worse, on the back of your head. It's just way too casual of a look for the work environment. I would equate it to wearing flip-flops. Also, it's really bad for your glasses. It'll stretch them out over time, your lenses will get scratched, and it's easier to get fingerprints all over them. But ideally you have a case or a microfiber pouch to put them in. Or you can slip them in your pocket."
3. No Croakies.
"There are a lot of different versions of these things that keep your glasses attached to your neck so you don't lose them. The proper name for it is a 'retainer.' Regardless, that neoprene, surfy kind of look is just not appropriate."
4. Your glasses are like nice clothes—take care of them.
"Just because the pair sitting on your desk may be made of plastic doesn't mean that people will not be looking at them and judging you based on your taste. So keep them clean, especially if you have mirrored lenses. No one wants to be looking at someone who has dirty, grimy lenses. Well-kept frames give that same nonverbal cue as a well-kept pair of shoes. It indicates that you're invested and pulled together. If your sunglasses are chipped, lenses are scratched, metal is bent—leave them at home and get a new pair."
5. Fluorescent frames are unacceptable.
"When you're picking out what shades to wear for the office environment, it's important to go with a more classic shape that's really comfortable and pulls your look together. If you're wearing something that's too aggressive—so a really strong shape or color—it can quickly become a distraction and look like you're screaming for attention. You want your glasses to add a cool air of confidence, instead of saying Look at me. Look at me."