Duke Expects Fuqua's MBA Hiring to Decline
Louis Lavelle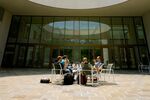 The number of MBA graduates receiving job offers at Duke University's Fuqua School of Business dropped significantly this year, but the average salary is up 2.5 percent, according to preliminary data (PDF) released today by the school.
Of the 414 graduates seeking employment this year, 325—or 79 percent—landed job offers by May 12. Last year that figure was 87 percent, with another 5 percent securing offers in the three months post-graduation.
The school emphasized that the 79 percent figure was preliminary and that more students are expected to report pre-graduation offers over the summer. To match last year's placement rate, another 35 students would have to report offers, and about 90 are currently unaccounted for.
"I find it hard to believe that we're going to be at 87 percent or above" when the data on pre-graduation job offers are finalized, says Sheryle Dirks, Fuqua's associate dean for career management. She expects that figure will ultimately be "in the low 80s."
A combination of factors will result in additional students reporting offers received this summer, adding to the final total reported in the fall, Dirks says. More students have opted out of campus recruiting to pursue individualized searches, and visa issues are preventing some international graduates from even starting their searches until they return to their home countries.
While several top employers hired more Fuqua grads this year—Microsoft hired 12, up from 8, Accenture hired 11, up from 9—a number of important employers severely curtailed their Fuqua hires, according to the preliminary data. McKinsey, which hired 18 grads last year, took only 7 so far this year, and Boston Consulting Group cut its hires in half, from 12 to 6. Johnson & Johnson, which made 12 Fuqua hires last year, hired only 2 grads so far this year. Deloitte remains Fuqua's No. 1 employer, hiring 26 grads, down from 30 last year.
The setback for Fuqua comes as a surprise. Like many top business schools, Fuqua has improved its placement rate over the last few years, with only 7 percent of 2012 graduates unemployed by three months after graduation, down from 8 percent in 2011 and 19 percent in 2010. Among the top 30 full-time MBA programs, Fuqua ranked 19th in job placement.
The news on the salary front was more upbeat. The average salary for all graduates was $114,597, up from $111,812 last year, an increase of $2,785 (2.5 percent) that outpaced inflation for the period. In all, 89 percent of all graduates received signing bonuses, up from 84 percent last year. The average bonus was $29,388, an increase of $1,924 (7 percent) over last year.
The bulk of the class entered consulting, finance, consumer goods, and technology, with nearly a third of the class taking consulting jobs. Of those, consulting paid the best, with an average salary of $130,977, followed by technology ($119,375), finance ($105,616), and consumer goods ($102,417). The highest single salary went to an MBA who took a job in the energy sector: $260,000.
Join the discussion on the Bloomberg Businessweek Business School Forum, visit us on Facebook, and follow @BWbschools on Twitter.
Before it's here, it's on the Bloomberg Terminal.
LEARN MORE