Chromecast: Google's Third Attempt to Get Into Your TV
by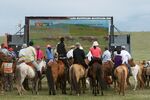 The burgeoning market for Wi-Fi devices that can stream to televisions has been owned so far by Roku and Apple TV, both of which retail at prices approaching $99, as well some Blu-ray DVD players. That's changing rapidly as Google's (GOOG) Chromecast angles for a mass audience with the lure of a $35 price, making it the cheapest streaming option to date. Amazon.com—another huge media peddler—is also jumping into this arena, with a set-top streaming box expected this fall, Bloomberg Businessweek reported in April.
Chromecast is a dongle that plugs into a television's HDMI port and works with Netflix's streaming service and Google's YouTube and Play retail shop. A launch promotion offers three months of Netflix for free, and Pandora is expected to be available soon (although there's no support yet for Hulu Plus or HBO's Go service). The gadget is also designed to receive content from any device running the Chrome browser, an interesting incursion into the Apple iPhone-iPad-iPod ecosystem. That feature is listed as being in "beta" mode, suggesting it may not work as well as Google wants it to from the outset.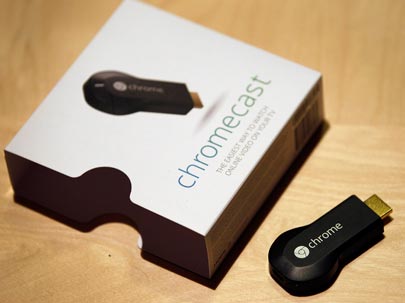 Online video viewing in the U.S. is growing dramatically, up 47 percent in the fourth quarter of 2012, according to Nielsen. But not everyone is content with watching cuddly kitten videos on a laptop or tablet, especially with that large, pricey high-definition panel sitting in millions of American living rooms and bedrooms. Standalone set-top boxes are expected to proliferate, growing to 26 million units in 2016 from 14 million last year, according to research from SNL Kagan.
Chromecast represents Google's third attempt to break into the home television segment. The Google TV software initiative was derailed by weak performance, poor reviews, and a dearth of interest from television makers. A second product announced last summer, Nexus Q, was panned as too expensive at $300 and was limited only to Google's own online products. The company pulled it back quickly. Chromecast, however, appears to be selling well so far: Amazon is currently sold out, with secondary sellers on its website asking as much as $150 for the new device.
Streaming video around your house is all well and good, at least when the Internet connection is decent enough to support it. But there's also the larger strategy of Google boosting your at-home Web surfing—especially if you're a YouTube fan, notes Bloomberg Industries media analyst Paul Sweeney. Google, after all, has plenty of advertisements it wants to serve you. If the Chromecast ends up receiving media from millions of Apple devices via Chrome browsers, that could potentially dent sales at Apple's iTunes Store.
Before it's here, it's on the Bloomberg Terminal.
LEARN MORE