Under Armour's New Pitch: Our Shoes Fit Like Bras
by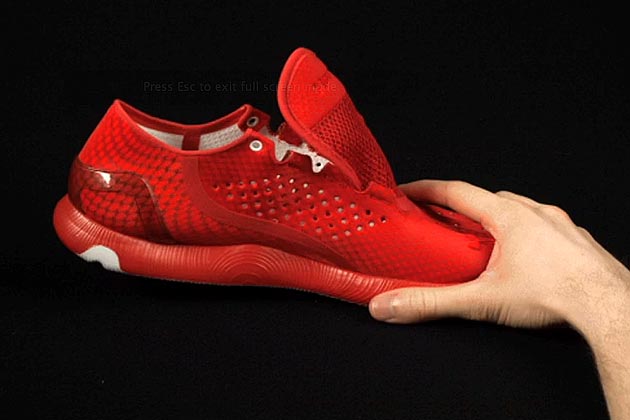 Getting traction in the running-shoe business has long required a careful mix of high technology and hyperbole. It takes airs and gels and carbon fiber, Greek gods and superhuman sprinters.
In the promotion of its new $120 "Speedform" running shoes, Under Armour appears to understand all this very well. The sneakers are inspired by spacesuit design and made in a bra factory. The shoes are "the ultimate performance moon shot" and "the holy grail of fit." Got that? Strap them on, and you'll feel like Jesus gliding through a marathon in outer space with tiny brassieres coddling his feet.
"We need to be differentiated, and Speedform really gives us that," Chief Executive Kevin Plank said on an earnings call this morning. "It's fun watching it hit the market."
Buried under the metaphor madness is Under Armour's significant campaign for athletes' feet: It hopes to roughly triple revenue from its footwear division in the next two years. Last year the category accounted for $239 million in sales yet only 13 percent of revenue. Under Armour's baseball and football cleats are doing well, but a lot more people go out for the occasional jog than those who strap on shoulder pads or face down fastballs. In the U.S., almost 30 million people ran more than 50 days last year, according to the National Sporting Goods Association. What's more, they spent almost $7 billion billion on specialty shoes.
And in the running business, as serious cushioning comes under fire from the minimalist jogging movement, fit has become the major selling point—the only thing that stands between a $120 purchase and a barefoot 10K or a no-frills product such as Vibram's FiveFingers.
Nike, of course, understands this well. It commands roughly half the U.S. market (Asics is a distant No. 2); its latest technology—the Flyknit—is made of tightly woven polyester and promises to fit "like a sock" and be "light as a feather."
Seeing as "sock" was taken, Under Armour lauds its addition to the sneaker pile for treating a foot like a little breast, cupping the heel and ball with a seamless footbed. Senior Creative Director Dave Dombrow told investors in June that no shoe has ever fit so well. "I promise, it couldn't—it's never been done," he said. "I'm going to say it again. It's never been done. It's a big, big, big deal, OK?"
OK. We get it. Even those of us who don't wear bras.
Before it's here, it's on the Bloomberg Terminal.
LEARN MORE