Tourre Insists False and Inaccurate Aren't the Same Thing
By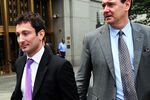 After more than a week of testimony from other witnesses, the man at the center of one of the U.S. government's biggest cases surrounding the financial crisis finally took the stand. In a sharp black suit, crisp white shirt, and bright purple tie, former Goldman Sachs executive Fabrice Tourre (pronounced like "tour") showed that he was no shy witness.
Tourre, accused of misleading investors in a 2007 mortgage deal, was animated on the stand. He sat with a pursed smile as he listened to questions and leaned in to a microphone to answer them. His eyebrows arched high as he spoke.
He was quick to say when he didn't agree with the Securities and Exchange Commission's assertions—and just as quick to show off his smarts. At one point, during a painfully slow word-by-word dissection of an e-mail, SEC attorney Matthew Martens asked if Tourre agreed that "i.e." essentially meant for example. "Yes," Tourre retorted. "It stands for id est in Latin," he continued, sending a chuckle through the courtroom. While breaking down another e-mail, Martens asked Tourre to explain the investment banking term "axes," and the defendant eagerly corrected him to say it was in fact a phrase used by traders, not bankers.
Theatrics aside, the testimony focused largely on Tourre's relationship with Laura Schwartz, who worked on the deal in question for a third-party company. Schwartz's firm, ACA Management, was supposed to select independently the mortgage bonds that Goldman bundled into the security, known as Abacus. The SEC alleges that, in fact, John Paulson's hedge fund had a hand in selecting the bonds and that Paulson stuffed the Abacus deal with extra risky assets specifically because he had secretly bet that Abacus would fail. The SEC says Tourre should have, but did not, disclose Paulson's involvement to investors.
Schwartz, who was considered a star witness for the SEC, maintains that she didn't know Paulson had bet against Abacus and instead thought that he was betting the deal would rise in value. Right out of the gate, Martens got Tourre to acknowledge that in a January 2007 e-mail to Schwartz, Tourre had implied that Paulson was going to be buying some long positions. "Was it false?" Martens asked. "It was not accurate," Tourre admitted. After going back and forth a few times with similar results, Martens asked if Tourre believed there was any difference in his mind between something being false and being inaccurate. "There is," Tourre said.
In another exchange, Martens called out Tourre for not correcting Schwartz's misunderstanding that Paulson was taking a long bet. Martens homed in on an e-mail that Tourre had received in which Schwartz referred to "Paulson's equity perspective." Martens says asked if Tourre could think of any other possible meaning that the phrase could have had other than that Paulson was buying the equity bonds, whose value would rise if Abacus performed well. Eventually, Tourre relented: "Not really. No." Martens then went on to pummel Tourre with questions about whether he'd taken steps to correct Schwartz after that e-mail. Did he call her? E-mail her? Send her a memo? ("A memo?" Tourre quizzically asked.)
Over and over, Tourre responded: "Not that I remember."
While each side may have won some small victories, they came in these disparate moments that are hard to tie back to the big picture. In dealing with logistical matters before Tourre's testimony, the judge said she doubted the jury would be able to keep all the various allegations straight—and indications were that some jurors have struggled, at times during the trial, to stay awake. The judge instructed the SEC to compile a list of alleged omissions and misstatements that will ultimately be a guide for them.
Ultimately, it's the jury that will need to decide if these e-mails and assertions all add up to fraud. The jury seemed to take its role seriously during Wednesday's testimony. A few jurors took notes along the way, and while one juror wore flip flops, several others were dressed quite formally, including one man in a full suit and tie, complete with a perfectly folded pocket square. They perked up as Tourre first took the stand, though as the testimony dragged on, some clearly lost focus. Even a spritely Tourre didn't make structured finance any easier to understand.
Before it's here, it's on the Bloomberg Terminal.
LEARN MORE