business
Renting Out Your Bedroom to Fund Your Startup
By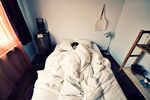 Justin Schwartz was flattered when a friend suggested he get a holiday job standing shirtless in front of an Abercrombie & Fitch store at a Long Island shopping mall. He needed the money to fund Privatext, his secure text-messaging startup, but worried about embarrassment—and the cold.
Instead, Schwartz babysat the children of friends and relatives on his free evenings and most weekends, raising around $2,500 from 2011 to 2012. It was enough to advance his business to the point where he could attract angel investment.
With less equity money available from private investors, and small business lending continuing to stagnate, entrepreneurs like Schwartz, 25, are finding creative ways to raise capital.
Traditional avenues, such as loans from friends and family or running up credit card debt, are not available to everyone, says Veronika Sonsev, the 38-year-old chief executive officer and co-founder of New York City-based InSparq, a social merchandising platform aimed at retail brands. She and her business partner started the company by using their combined savings in late 2010 but exhausted that cash two years later. "The reality is that there was a timing issue for our business. We thought retailers would want this technology immediately, but it's taking longer than we expected," Sonsev says.
The onetime media executive decided to sell her Virginia home, which she had been renting out, to raise additional capital in 2012. She cleared $100,000, which she has used along with the sale of some stock options from a previous job to infuse new cash into her company. "We think the opportunity here is huge, but it takes longer to break even than anyone thinks it will," she says.
Selling assets is another option not available to all startup entrepreneurs, however. So some are wringing funds from resources that aren't always considered moneymakers, such as pawning collectibles, listing their cars on car-sharing services, or renting out spare bedrooms.
Tracy DiNunzio, 35, took that idea one step further: She slept on the couch in her Santa Monica (Calif.) apartment in 2011 and rented her bedroom on Airbnb to raise money for her fashion resale startup, Tradesy. Because the apartment was near the beach, she was able to charge $95 per night and boost that to $200 per night in the summer.
DiNunzio also tended bar and got a job doing data entry to fund her startup, at one point letting her Web developer stay on her couch and in her storage unit in exchange for work on the startup's website. But the room rental proved to be the best experience.
Over about a year and half, DiNunzio hosted more than 100 international visitors, including a Japanese professor who stayed three months while researching the Hollywood entertainment industry, and a singer-songwriter who booked the room from the Reykjavik airport the day before he was due in Los Angeles to meet with a new manager. "He came in a taxi at one in the morning with a guitar on his back, and we stayed up all night talking," DiNunzio recalls. "Within a week we had decided he wasn't leaving. We were engaged within a month." The two were married in January 2012.
Schwartz doesn't have quite as sweet a story to tell from his babysitting gigs. In fact, one of his rambunctious young clients punched him in the face while they were wrestling, he says. "I got some welts. I guess I can honestly say I suffered for this business."
By last summer, he says, he was able to raise a total of $300,000 from angel investors and stop spending every weekend babysitting, though it's good to know he can always do it again if he needs cash in the future. "Either that or I'll hit the gym and head over to the mall," he says.
Before it's here, it's on the Bloomberg Terminal.
LEARN MORE