New Chevy Impala Is Nearly as Good as a Tesla, Consumer Reports Says
by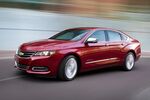 The new Chevy doesn't have much in common with that Tesla everyone loves—aside from their scores in the latest Consumer Reports ranking.
In a surprise, Chevrolet's 2014 Impala model took the top spot in the publication's ranking of sedans, the first time in two decades an American brand has topped rivals from Europe and Japan. The Impala's 95 score was also among the highest of all vehicles Consumer Reports tested, bested only by the Tesla Model S (99) and BMW 135i coupe (97).
The new Impala, which starts at around $27,000, has undergone a "phoenix-like turnaround," the publication noted, after receiving a "mediocre" score of 63 in early 2012 before a redesign by General Motors. "The Impala's performance is one more indicator of an emerging domestic renaissance," Jake Fisher, Consumer Reports' automotive testing director, said in a news release. Another indicator came today when Detroit-based GM reported a $1.4 billion profit in the second quarter, helped by a surge of 18 new or refreshed models the company is sending into showrooms for the 2014 model year.
GM is banking on a heavily revamped product line for next year to help further its financial turnaround. "We're just at the very beginning of our new launch cycle here, a lot of the new product is yet to really come into the market at full-run rate," Chief Financial Officer Dan Ammann told reporters today. The revamped models will make GM's lineup, now one of the oldest in the industry, into one of the newest, according to the earnings report from Bloomberg News. The company also is offering free routine maintenance for two years, or 24,000 miles, for 2014 Chevrolet, Buick, and GMC models.
Despite the plaudits for the new Chevy Impala, Consumer Reports hasn't yet recommended buying the top ranking vehicle because it is too new to have compiled reliability data. The nonprofit testing group switched its ratings to a numerical ranking system in 1992, and since then Japanese models have earned the top sedan score a dozen times, with European cars scoring highest the other years.
Before it's here, it's on the Bloomberg Terminal.
LEARN MORE