Jeff Bezos Doesn't Care What You Think About Amazon's Quarterly Earnings
by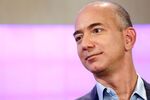 If you are watching Amazon's quarterly earnings today, probing the numbers for signs of the online giant's continued vigor, feel free. But honestly, Jeff Bezos doesn't care what you think.
Amazon's chief executive doesn't concern himself with Amazon's quarterly earnings report or with Wall Street's visceral reaction to it. (In fact, he's in Silicon Valley for most of this summer, working with Amazon's hardware design arm, Lab126, according to a person familiar with the matter who wasn't authorized to discuss it publicly.) Bezos manages Amazon for the long term and regularly mucks up the bottom line with expensive, risky bets on unprofitable new businesses such as grocery deliveries and tablets.
So the company's earnings reports tend to be fairly spotty, and cast in the context of the bubbly optimism that usually surrounds Amazon stock, they can make Amazon investors jittery. With Amazon stock up about 15 percent since the start of the year and well into nosebleed altitudes above $300 a share, investors were primed for a letdown with today's report. They got one.
Amazon posted $15.70 billion in revenue for the quarter, slightly off analyst expectations of $15.732 billion for the three months that ended June 30. The company lost $7 million in the second quarter, or 2¢ a share, way off the Street's already meager prediction that it would earn 5¢ a share. (Amazon actually lost money during all of last year.) It also guided investors to expect a further loss in the third quarter, somewhere between $65 million and $440 million. There's red ink as far as the eye can see.
It's hard to make much money when you're opening refrigerated fulfillment centers around the country, manufacturing your first set-top box, preparing to launch a phone, buying up video content in a furious competition with Netflix, and creating original programming, all the while diving into new product categories and revolutionizing the publishing business.
Amazon stock was down slightly in after-market trading, to less than $300. Bezos has always promised he will guide his company for the long term, with an emphasis on generating free cash flow, so investors still have loads of faith. It will take much more than some relatively meager losses to knock this juggernaut out of the hearts and minds of many shareholders. Amazon is still growing way faster than e-commerce and retail overall, meaning it's stealing market share from both online and offline competitors.
Bezos doesn't show up for the quarterly conference calls with analysts and journalists. He leaves those duties to motivational speaker Tom Szkutak, his chief financial officer. On the call with journalists, I asked Szkutak when Amazon's grow-at-all costs investment cycle will end and return the company to profitability. "We are investing for the large opportunity we have in front of us," he replied. But he also said, in language too convoluted to reprint exactly, that Amazon knows it's important to "check in periodically" to "prove that the model is working." In other words, Bezos knows investors won't tolerate this expansion forever and that Wall Street will want to see a profit—perhaps not today, but someday soon.
Before it's here, it's on the Bloomberg Terminal.
LEARN MORE