Investors May Be Missing Out on the Strongest Bull Market Ever
by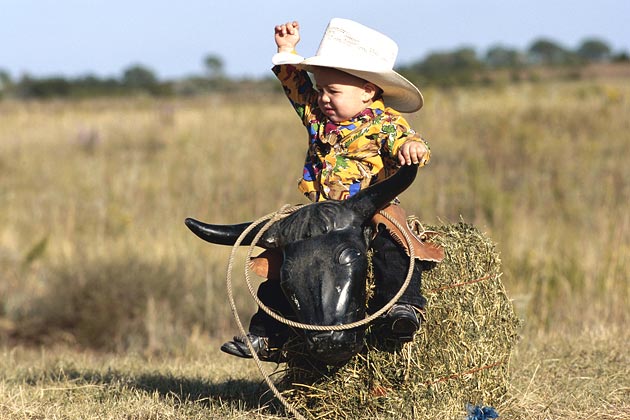 The run-up in Standard & Poor's 500-stock index that started a little more than four years ago is the strongest bull market in modern history. So calculates Jeffrey Kleintop, chief market strategist at LPL Financial. The benchmark is up 154 percent since March 2009, a showing that has bested all bull runs since 1949. This, despite all it has going against it.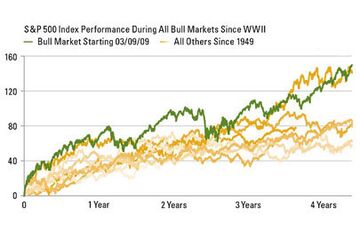 Kleintop's research finds that six of the bull markets since World War II have lasted as long as this one. At this point, however, none was stronger. The second-best performer—up 141 percent—began in August 1982. Next on the list: the 80 percent gains that followed the October 2002 and June 1949 lows. Taking a tangent, Kleintop writes:
Last week revealed the nominations for the 2013 Primetime Emmy Awards. Overall, 10 different dramas scored nominations for the shows or lead actors. But missing from the list was the show that is the number one drama in the coveted 18-to-49-year-old demographic: The Walking Dead. There was no respect for the unstoppable zombie drama from the television academy. Likewise, this unkillable stock market rally seems to get no respect.
Record run be damned, investors have been net sellers of U.S. shares in four of the past five months and also in four of the past five weeks, according to the Investment Company Institute, Kleintop says. He cites the American Association of Individual Investors Sentiment Survey, which measures the percentage of individual investors who are bullish, bearish, and neutral on the stock market. This year its bullish reading has averaged 38 percent, below the 10-year average of 41—a stretch that included the growling bear market of the 2008-'09 Great Recession.
Moreover, insiders and/or top company executives have been net sellers of shares. Nevertheless, the S&P 500 has continued its climb despite tax increases, sequester spending cuts, high oil prices, weakening Chinese economic growth, rising interest rates, and on and on. There will, Kleintop adds, "be more shots fired in the second half of the year, including: the winding down of the Federal Reserve's bond-buying program, the looming battle in Washington over the need to craft a deal to avert the debt ceiling later this year, the German elections, and the path of growth in Europe."
Meanwhile, the S&P 500′s rally from January to June was the best first half since 1998.
Before it's here, it's on the Bloomberg Terminal.
LEARN MORE